Jan. 11, 2017
– A newly-established award named for the first man to walk on the moon will honor a new generation of scientists, engineers and explorers whose character and achievements exemplify the principles that were embodied by Neil Armstrong and all of the astronauts who have flown into space.

The Astronaut Scholarship Foundation has announced the Neil Armstrong Award of Excellence to recognize the best among its scholarship recipients. Founded by the Mercury 7 astronauts in 1984, the Foundation has awarded over $4 million to more than 400 of the United States' top science and technology college students.

"Our Astronaut Scholars are among the brightest and most innovative men and women in the fields of engineering and science," said Rick Armstrong, son of the late moonwalker and a member of the Foundation's board of trustees.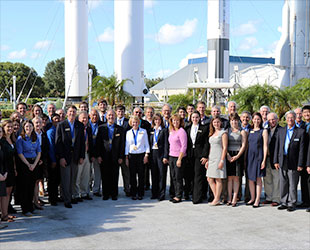 Astronauts, Astronaut Scholars, and ASF board members pose at Kennedy Space Center Visitor Complex in 2015.
(ASF/Steve Torres)
"Dad believed strongly in the value of a strong education coupled with hard work, so I have no doubt that he would be enthusiastic about [recognizing] someone who not only shares those values but has gone on to achieve something amazing with that opportunity," he said.

The Neil Armstrong Award of Excellence will be presented at the Scholarship Foundation's inaugural Innovator's Gala to be held in Washington, D.C. on Sept. 16.

Nominations for the award are being accepted through the Foundation's website. All ASF Astronaut Scholars selected through 2016 are eligible.

"We recognize — as Neil did — that scientific discovery is integral to our success as a nation and our ability to serve others," stated Jim Hays, Armstrong's long-time friend, in a letter emailed to the Foundation's constituents on Tuesday (Jan. 10). "The award bearing Neil's name is intended to recognize achievement, inspire innovation, and encourage future generations to excel in their scientific and technical pursuits."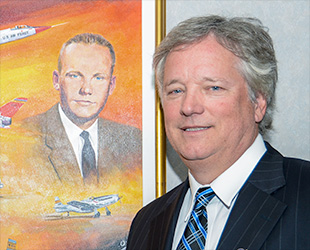 Rick Armstrong poses next to a portrait of his father at the NASA Armstrong Flight Research Center in Calif.
(USAF/Rebecca Amber)
Armstrong, who died in 2012 at the age of 82, was a friend of the Astronaut Scholarship Foundation, attending several of its events. Before commanding the Apollo 11 mission in July 1969, he achieved the first space docking aboard the Gemini 8 mission in March 1966.

After resigning from NASA in 1971, Armstrong became an engineering professor at the University of Cincinnati.

The Neil Armstrong Award of Excellence was developed in collaboration with Armstrong's family and Hays. The award will honor Astronaut Scholars who have made outstanding scientific discoveries, developed technologies or advanced systems, while also exhibiting integrity, intellectual daring, perseverance and a passion for exploration.

"We are indebted to the Armstrong family and Jim Hays for their support and generosity in making this possible," said Dan Brandenstein, chairman of the ASF board of directors and a former space shuttle astronaut. "It pays tribute to the qualities embodied by Armstrong and those who ventured into space by recognizing a scholar whose work continues their mission to benefit all mankind."