advertisements

Carl's Jr., Hardee's offers NASA toys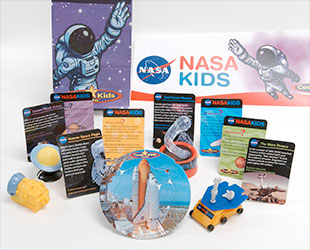 Carl's Jr. and Hardee's restaurants will offer NASA-themed toys and collector cards was part of their Cool Kids Combo.
(NASA)
January 7, 2004
— Kids eating at Carl's Jr. and Hardee's fast food restaurants will now find collectible space-theme toys when they open their combo meals.

The promotion, which begins today and runs through February 24, is part of a collaboration between NASA and the chains' parent company, CKE Restaurants, Inc.

Four different toys will be offered: a pullback Mars rover, a Cassini probe that "orbits" Saturn, a "Cool Comet Mission" flywheel spinner and a Space Shuttle-themed, double-sided puzzle. Each toy also includes a "collector card" that shares facts about planets, NASA's missions, spacecraft and discoveries.

The toys are designed for children between six and 10.

"These toys and fun fact cards have the potential to get kids excited about space and the fascinating nature of science and its discoveries," said NASA Administrator Sean O'Keefe in a press release. "We hope to emulate this kind of collaboration with other commercial partners in the future as yet another avenue to inspire the next generation of explorers."

"Now kids of all ages can combine a great experience at Carl's Jr. or Hardee's restaurants with the opportunity to learn about NASA's historic ventures," stated Brad Haley, executive vice president of marketing for the restaurants. "The collector cards and realistic space vehicle toys provide an up-close understanding of the complexity and marvels of space exploration. We are particularly excited about the opportunity to partner with NASA as they celebrate another successful mission to Mars," he said.

The NASA discovery-inspired toys will be available at the more than 3,000 participating restaurants in the United States, its territories, and Mexico. Carl's Jr. and Hardee's expect to distribute as many as 3.5 million NASA-related "Cool Kids Combos" toys during the promotion.

Carl's Jr. and Hardee's are wholly owned subsidiaries of CKE Restaurants, Inc. of Carpinteria, California. CKE Restaurants, through its subsidiaries, franchisees and licensees, operates 3,284 restaurants in 44 states and in 14 countries, including 1,003 Carl's Jr. restaurants, 2,134 Hardee's and 100 La Salsa Fresh Mexican Grills.

© 2022 collectSPACE.com All rights reserved.