January 6, 2022
— The International Space Station is about to get its first sales showroom.

Uplift Aerospace, which last year flew an artist's paintings on the nosecone of a space-bound rocket, has announced the upcoming launch of its "Constellation Vault," a platform for exhibiting jewelry, artwork and other precious goods on board the space station. Members of Uplift's new "Space+" community will have access to the vault to view the items in space, have the option to purchase at least some of them and maybe send an item of their own.

"The Constellation Vault is an exhibition space where top brands, artists and creators will be able to send items that are designed for space, that are unique or are some of the most precious items from Earth to be showcased on the space station," Josh Hanes, president and chief executive officer of Uplift Aerospace, said in an interview with collectSPACE. "Whether they are more artistic-type items or something like investor-grade gems, we want the Constellation Vault to be a place that we can use to tell powerful stories and showcase incredible creators of our time."

"We want the vault to be a place that highlights the value of humanity and Earth with regards to what we create," Hanes said, adding that some of the items that will be flown will be destined for museums rather than being sold.

Uplift Aerospace has signed a reimbursable Space Act Agreement with NASA to launch and install the Constellation Vault on the space station for brief periods of time and then return it to Earth. The size of vault — "think of it as a small locker," says Hanes — will change with each flight based on the type and number of items that are being flown.

The logistics of how access to the items will be provided is still being worked out. The first launch is targeted for the second or third quarter of this year.

"The idea is that we'll be able to showcase the items while they are on the space station, but we're still developing the exact process of how that will be done," said Hanes.

The first step will be membership in Space+, Uplift's online community and NFT (non-fungible token) collection. Unlike many other digital and cryptocurrency-based marketplaces, Space+ NFTs will double as membership cards with access to real-life space experiences, including the Constellation Vault.

"NFTs are, for our community, virtual membership tokens," said Hanes. "Currently, NFTs do not have a lot of utility in the physical world. We're trying to build that into them."

Those who buy and own Uplift's Space+ NFTs will have access to giveaways, such as flying an item to the space station or winning a suborbital spaceflight, as well as the option to purchase additional NFTs based on the items inside the Constellation Vault. The latter will then unlock the opportunity to buy the physical, space-flown item.

Space+ members will also be able to take part in events, ranging from educational talks to zero-g (parabolic) flights, and help direct charitable donations. Ultimately, Uplift Aerospace plans for the Space+ community to launch a robotic rover to the moon.

In the near term, members may get something that has been flown into space.

"We are trying to make it so everybody gets something from the space station," Hanes told collectSPACE. "We will have one payload where we bring back something from the space station that every single member can have, whether it is a mission patch or something else."

More details about the contents of the first Constellation Vault will be announced as the launch draws closer. Sale of Space+ NFTs will begin this Spring (people who join the Space+ Discord channel or follow Space+ on Twitter can gain early access). The price for the initial Space+ NFTs is still to be announced.

"We haven't yet set the specific price, but we're going to set it low," said Hanes. "We want anyone who has interest to be able to participate. Once the NFTs are bought, we don't have a lot of say over what the public market values will be, but initially we are setting it at a price so that if anybody wants to, they can join our community."

"The reason why we, as a company, have decided to create an NFT platform is because we truly believe that there is utility in NFTs and cryptocurrency in space applications for the long term," he said. "Our purpose in the long term is to facilitate commerce. We think it is a good infrastructural system for commerce between space and Earth."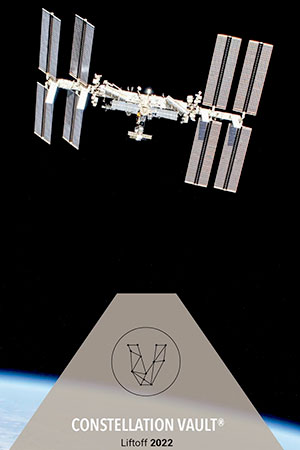 Uplift Aerospace's Constellation Vault will showcase fine art, jewelry and other goods for sale on the International Space Station. (Uplift)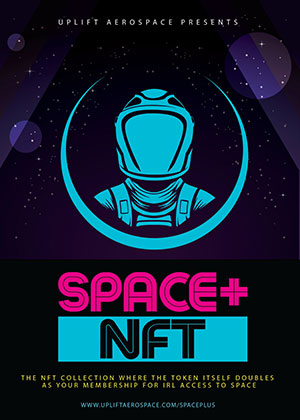 Flyer promoting Uplift Aerospace's Space+ NFT collection, which will give owners access to real-life space experiences. (Uplift)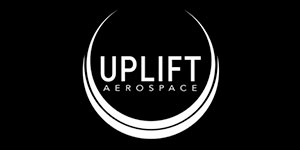 Uplift Aerospace: Building a multiplanetary marketplace. (Uplift)