January 2, 2017
– Move over Tang, there is a new way to drink like the astronauts.

The public can now sip their beverages, powdered orange drink or otherwise, from the same style of "Space Cup" as used aboard the International Space Station. The specially shaped fluid containers are now commercially available via Spaceware, a newly-launched side venture by the Oregon-based firm that developed the cups used in orbit.

"We thought this would be a great bridge between science on the ground and things that can be used in space," said Ryan Jenson, president and senior engineer at IRPI, which primarily focuses on spacecraft fluid systems. "Spaceware could develop into something more — it would be fun if it did — but for now, it is more of an outreach, education and science thing for us."

At the Spaceware.co website, space enthusiasts and fans of oddly-shaped drink vessels can now purchase the flight-certified "Space Coffee Cup" or the porcelain-cast "Space Cup" in a choice of four colors.

Launching the Space Cup

Historically, space travelers have had to drink from plastic containers or foil pouches using straws. That is until 2008, when NASA astronaut Don Pettit worked with IRPI's senior scientist and vice president Mark Weislogel to demonstrate the use of a makeshift cup that took advantage of the zero-g environment and the principles of capillary flow to pump, or wick, the fluid up its wall.

Weislogel and IRPI then advanced the design, developing a set of 3D-printed cups that flew to the station in 2015 as part of the Capillary Beverage experiment.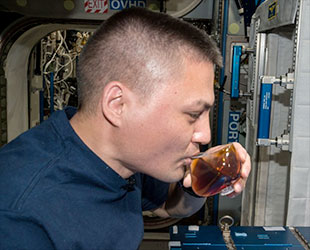 NASA astronaut Kjell Lindgren is seen sipping from a Spaceware Space Cup aboard the International Space Station.
(NASA)
The Space Cup was an instant hit, both in orbit and on the ground, gaining public attention for its use with the orbiting outpost's first espresso machine. IRPI started a Kickstarter campaign to offer the commercial Space Cup in response, but only raised $34,000 out of its $50,000 goal.

"We did not hit our mark, so we took a bit of time to decide how we could make the Space Cup and get it out at a low upfront cost," Jenson told collectSPACE.

Shaping up

As it turns out, making Space Cups is not as simple as it might sound.

The flight-certified Space Coffee Cup is 3D printed, using the same material and specifications as NASA approved for flight on the space station. The production is expensive, each cup sells for $499.95, and the cup is not designed for everyday use, at least not on Earth. ("Think of this as a bit of art, science, and space history all in one," advises the Spaceware website, adding that the cup is "definitely not dishwasher safe.")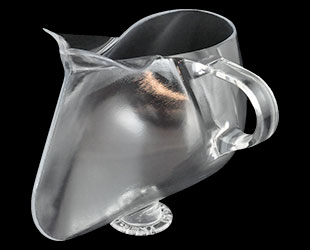 The flight-fidelity Space Coffee Cup is the original shape, material and 3D printed to the same specifications that have been approved by NASA for flight on the International Space Station.
(Spaceware)
"The flight fidelity cup, without getting too much into the details, is printed with an SLA [stereolithography] process, so it is full-on 3D printed with post-processing for coating the surface," said Jenson. "It is a more expensive process. That is what the actual cups in space are, and they are produced for several hundred dollars a piece."

The porcelain Space Cup, available for $74.95 each in a choice of glossy or matte black, glossy red or glossy blue, was also difficult to manufacture.

"The design and geometry is all driven by the science and so it has all of these curves," Jenson said. "That made it challenging to find someone who could make it."

To ensure the correct shape, Spaceware produced a 3D-printed mold from which the porcelain cups are cast.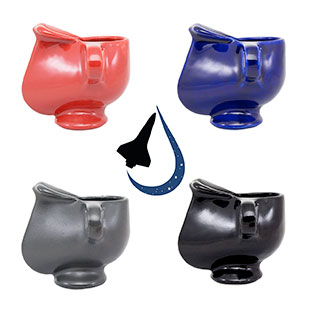 Spaceware is selling its porcelain Space Cup in four colors: glossy red, glossy blue, glossy black and matte black.
(Spaceware)
"It is a little more expensive than what we wanted it to be, but our biggest objective was to let people get their hands on it," said Jenson.

On and off the Earth

Despite the different production and material, the porcelain Space Cups would work just like the flight-certified cups in space.

"It has the same geometry, the same curve and the same angle," Jenson told collectSPACE.

On Earth, Space Cup owners will still need to rely on the pull of gravity to pour the beverages inside. The presence of gravity is also the reason behind an addition to the cup's design.

"We added a base for one-g, so it sits," Jenson said.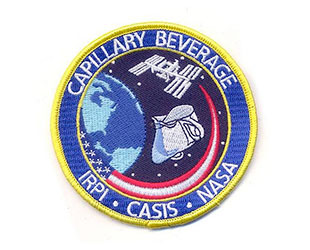 Spaceware also offers for sale the mission patch for the Capillary Beverage Experiment.
(Spaceware)
Time will tell how popular the Space Cup is among those on the ground, but it has already been in demand by those who have used it in orbit.

"Astronauts have been taking them home with them – they have been disappearing off the station," revealed Jenson. "They are actually using them and drinking from them, but several have come back in their 'luggage.'"

For more information or to order your own Space Cup, see the Spaceware website.