- collectSPACE Museum -


Artifacts
space flown and ground hardware

Autographs
who's who in space: first 25 years

Books
galleys, advanced reading copies

Medallions
flown and minted with flown metal

Philatelics
first day programs, flown stamps



| | | | | |
| --- | --- | --- | --- | --- |
| | ← Previous | • | Next → | |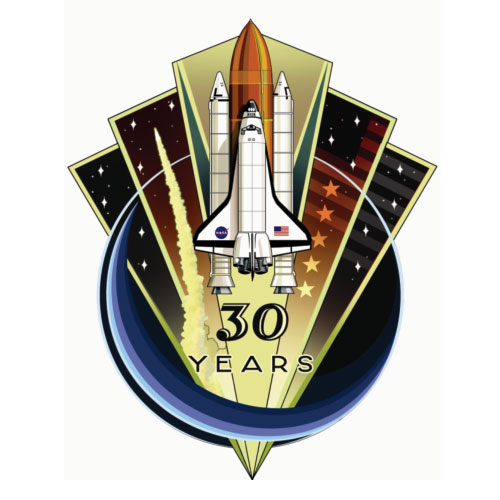 Artist-supplied caption:

To celebrate the upcoming 30th anniversary and retirement of the Space Shuttle Program, I aimed to design a patch that captured the visual essence and spirit of the program in an iconic and triumphant manner. As the Space Shuttle Program has been an innovative, iconic gem in the history of American spaceflight, the overall shape of the patch and its faceted panels are reminiscent of a diamond or other fine jewel. As the shape of the patch fans out from a fine point at the bottom to a wide array across the top, this evokes the vastness of space and our aim to explore it, as the Shuttle has done successfully for decades. The outlined blue circle represents the Shuttle's exploration within low Earth orbit, but also creates a dynamic fluidity from the bottom right around to the top left to allude to the smoothness of the Shuttle orbiting the earth. The diagonal lines cascading down into the top right corner of the design form the American Flag as the Shuttle has been one of the most recognizable icons in American history over the last three decades. In the top left and right panels of the design, there are 7 prominent stars on each side which represent the 14 crew members that were lost on shuttles Challenger and Columbia. Inside of the middle panel to the right of the Shuttle, there are 5 larger, more prominent stars that signify the 5 Space Shuttle vehicles NASA has had in its fleet throughout the program.

While there have been a multitude of accomplishments in such a long, successful program, I felt it more appropriate to focus on the symbolism and iconography of the Shuttle program as simplistically recognized by all Americans rather than attempting to reflect so many of the exceptional program accomplishments such as the Hubble Telescope, creation of the International Space Station, the success of the Remote Manipulator System, etc in such an ultimately confined space. Instead, I have designed this patch as an overall celebration of the much-beloved program and vehicle that so many people have dedicated themselves to in so many capacities over the years with a sense of vibrancy and mysticism that the Space Shuttle Program will always be remembered by.
| | | | | |
| --- | --- | --- | --- | --- |
| | ← Previous | • | Next → | |
Back to:
Designing an uplifting end to NASA's space shuttle program

© 1999-2010 collectSPACE.com All rights reserved.
Questions? E-mail contact@collectspace.com