- collectSPACE Museum -


Artifacts
space flown and ground hardware

Autographs
who's who in space: first 25 years

Books
galleys, advanced reading copies

Medallions
flown and minted with flown metal

Philatelics
first day programs, flown stamps



| | | | | |
| --- | --- | --- | --- | --- |
| | ← Previous | • | Next → | |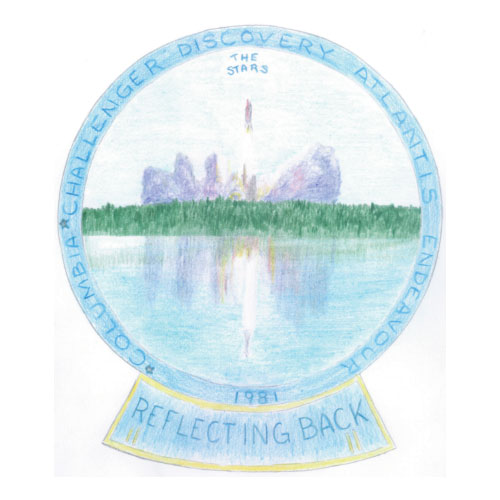 Artist-supplied caption:

I call this patch "Scratch the Sky"

The patch I've designed signifies on the outer boarder from left to right the order in which our orbiters launched.

The Stars preceding Columbia and Challenger depict our tragic loss.

Our first launch was in 1981 and our destiny is to continue to shoot for the Stars.

Reflecting Back is the reflection off the bay from the Shuttle Launch

Overlooking the Atlantic, she stood proud like a spire.
Fists clinched in anticipation waiting for a launch to transpire.
Millions of onlookers standing firm on the ground,
listening to "T-minus" 'til the Final Countdown.
Goose bumps, beating hearts, tears well up in the eyes,
"we have lift-off" the Space Shuttle scratches the skies!
| | | | | |
| --- | --- | --- | --- | --- |
| | ← Previous | • | Next → | |
Back to:
Designing an uplifting end to NASA's space shuttle program

© 1999-2010 collectSPACE.com All rights reserved.
Questions? E-mail contact@collectspace.com