- collectSPACE Museum -


Artifacts
space flown and ground hardware

Autographs
who's who in space: first 25 years

Books
galleys, advanced reading copies

Medallions
flown and minted with flown metal

Philatelics
first day programs, flown stamps



| | | | | |
| --- | --- | --- | --- | --- |
| | ← Previous | • | Next → | |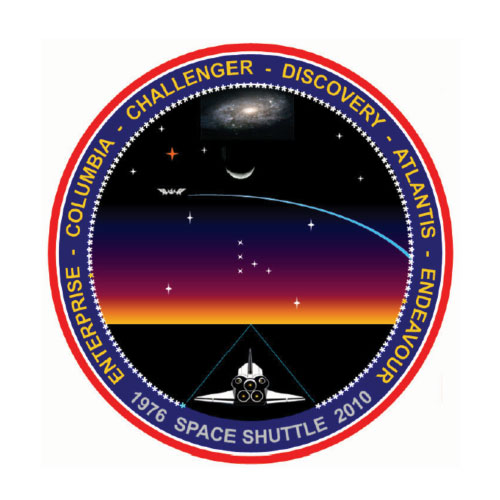 Artist-supplied caption:

This design attempts to honor the generation long accomplishments and history of the first Space Transportation System - the "Space Shuttle." One that saw us actually learn to live and work in space for long periods of time. When you think about what we knew when the program started and what we know now - the accomplishments are too numerous to list.

The focus of the design is the orbiter coming home for a safe landing at the conclusion of it's final mission. The sun is setting on an extraordinary era while the constellation Orion rises in the sky - the next golden age of exploration? We hope so. The crescent Moon and the red "star" of the planet Mars as seen from Earth are prominently displayed as they represent the goals of the Constellation Program. The galaxy is a tribute to the Great Observatories launched by the space shuttle. Hubble, Chandra, Compton and the knowledge gained from those satellites. The International Space Station passes overhead. Now complete, it continues its mission of science and international cooperation.

The inner border is made up of 135 stars representing every shuttle mission. The first star is blue to honor the work performed in the atmospheric test of the orbiter "Enterprise." The stars representing the STS-51L and STS-107 missions are gold to reflect on their ultimate sacrifice. The outer border prominently displays the colors of the Flag of the United States of America - to honor the people who designed, built, and supported the program in other ways. From the administrators to the clerical staff and maintenance workers - and to those who cheered on from the sidelines. The dates 1976-2010 were chosen because the first orbiter rolled out of the assembly plant on September 17, 1976 "Constitution Day" during our Bicentennial Year. The last wheels stop is scheduled to occur in September 2010.

The Mercury, Gemini and Apollo programs were the awe inspiring missions of my childhood. But the Space Shuttle Program was the one I had the honor and privilege to play a part in. It was an incredible achievement and one that we should all be proud of.
| | | | | |
| --- | --- | --- | --- | --- |
| | ← Previous | • | Next → | |
Back to:
Designing an uplifting end to NASA's space shuttle program

© 1999-2010 collectSPACE.com All rights reserved.
Questions? E-mail contact@collectspace.com