- collectSPACE Museum -


Artifacts
space flown and ground hardware

Autographs
who's who in space: first 25 years

Books
galleys, advanced reading copies

Medallions
flown and minted with flown metal

Philatelics
first day programs, flown stamps



| | | | | |
| --- | --- | --- | --- | --- |
| | ← Previous | • | Next → | |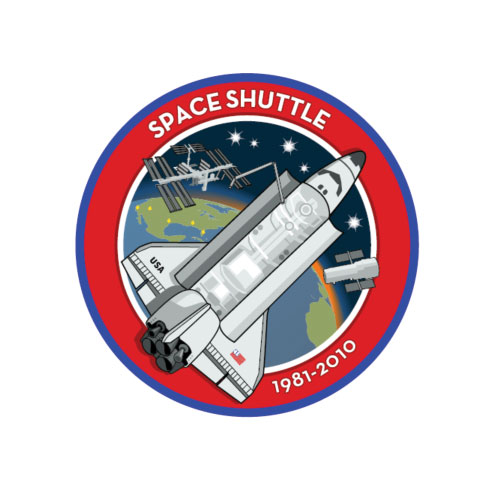 Artist-supplied caption:

The design commemorates the many mission objectives the Space Shuttle Program has performed in its service of NASA. These include the completed assembly of the International Space Station, the deployment of numerous payloads, including the Hubble Space Telescope, Earth observation, and space science. As the heart of the Program, the Orbiter is boldly shown in orbit, at the ready for the next challenge.

In the background the U.S. locations and dedicated ground forces with primary responsibilities for the design, manufacture, and operation of the Shuttle are highlighted. The bold stars symbolize the 5 Orbiters; Columbia, Challenger, Discovery, Atlantis, and Endeavor, and recognize the 2 vehicles lost as stars whose light has faded. And finally, the orbital sunset reflects the end of Space Shuttle era at NASA.
| | | | | |
| --- | --- | --- | --- | --- |
| | ← Previous | • | Next → | |
Back to:
NASA selects 15 finalists for end-of-shuttle patch contest

© 1999-2010 collectSPACE.com All rights reserved.
Questions? E-mail contact@collectspace.com