- collectSPACE Museum -


Artifacts
space flown and ground hardware

Autographs
who's who in space: first 25 years

Books
galleys, advanced reading copies

Medallions
flown and minted with flown metal

Philatelics
first day programs, flown stamps



| | | | | |
| --- | --- | --- | --- | --- |
| | ← Previous | • | Next → | |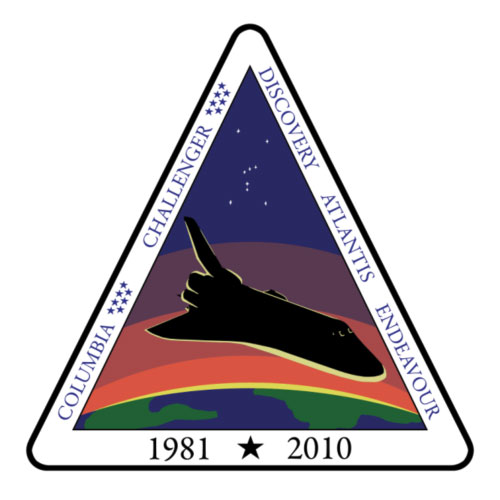 Artist-supplied caption:

This design is inspired by the original Space Shuttle Program emblem. The overall triangle shape is not only an homage to the original emblem, but is also indicative of the "delta wing" style of the Space Shuttle orbiter.

The dates on the bottom of the triangle encompass the operational history of the Space Shuttle fleet; the first flight launched April 13, 1981, and the final flight is scheduled for 2010.

On the left and right sides of the triangle are the names of the 5 operational Space Shuttle orbiters that were used throughout the Program's history, and the names are listed in chronological order according to their first flights. The left side features Columbia and Challenger, separated from the other three due to their tragic loss. Columbia and Challenger each include 7 stars in remembrance of the crew members lost in their respective accidents.

In the center of the triangle, the sun is setting behind Earth's horizon, symbolic of the sun setting on the long history of the Space Shuttle Program. As the sun sets, a palette of Fall colors radiates into the night sky. Just as Fall indicates the waning year, the colors here are symbolic of the Shuttle Program coming to a close. As the night sky opens, the constellation Orion is seen at the top of the triangle, signaling not only NASA's future spaceflight program, but also the next chapter in mankind's quest for space exploration - the triangle, like NASA's vision, points to the stars. The dark blue color of the night sky and the orbiter names is the same dark blue color from the original Shuttle Program emblem.

In the original Shuttle Program emblem, the orbiter is seen with the external tank and solid rocket boosters. The "Shuttle stack" is pointing up, ready to begin its journey. In the new design, the orbiter has shed its fuel tanks. It is seen in space, pointed nose down - indicating that the orbiter has ended its mission and is heading back to Earth. The orbiter is back lit, surrounded by the glow of the setting sun.
| | | | | |
| --- | --- | --- | --- | --- |
| | ← Previous | • | Next → | |
Back to:
Designing an uplifting end to NASA's space shuttle program

© 1999-2010 collectSPACE.com All rights reserved.
Questions? E-mail contact@collectspace.com