December 30, 2005
— A naval aviator who helped deploy the Hubble Space Telescope, a pilot who flew the fourth and final orbital test flight of the Space Shuttle Columbia and an Air Force test pilot who was at the controls of the first international Spacelab mission will be inducted next year into the US Astronaut Hall of Fame, the organization responsible for their selection announced on Friday.

The Astronaut Scholarship Foundation named Charles F. Bolden, Jr., Henry W. "Hank" Hartsfield, Jr. and Brewster H. Shaw, Jr. as the 2006 class of Astronaut Hall of Fame (AHOF) enshrinees. The three mission commanders will be the fifth group of shuttle astronauts to be honored and will join all Mercury, Gemini and Apollo veterans inducted since the Hall opened in 1990.

Hubble deployer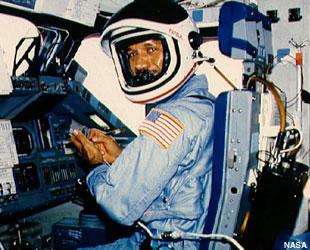 Charles Bolden mans the pilot's station on Columbia's flight deck prior to STS-61C's reentry.
(NASA)
Charles Bolden was selected as a NASA astronaut in 1980 after flying more than 100 sorties into North and South Vietnam, Laos and Cambodia, and then serving as an ordnance test pilot at the Naval Air Test Center. His first spaceflight aboard Columbia (STS-61C) was the last to fly before the Challenger accident in January 1986.

Four years later, he again flew as pilot, this time aboard Discovery on the 5-day STS-31 mission to deploy the Hubble Space Telescope. Bolden would fly twice more into space, logging a career total of more than 680 hours in orbit including commanding STS-45, the first Spacelab flight dedicated to NASA's Mission to Planet Earth and STS-60, the first shuttle mission that included a Russian cosmonaut as a member of the crew.

Bolden left NASA in 1994, returning to active duty in the Marines. Before retiring in 2003, Bolden served as the Commanding General of the Third Marine Aircraft Wing at the Marine Corps Air Station Miramar in San Diego, Calif.

In January 2005, Bolden left as Senior Vice President of TechTrans International, a language services company. Bolden is currently an aerospace and military consultant.

The "Icebuster"

Hank Hartsfield joined NASA's astronaut ranks just two months after the first manned lunar landing in September 1969, after being reassigned from the cancelled U.S. Air Force Manned Orbiting Laboratory Program. Before flying in space, he served as a member of the support crew for Apollo 16, Skylab 2, 3, and 4.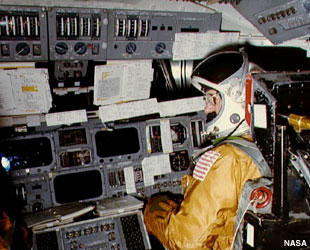 Hank Hartsfield, STS-4 pilot, participates in a training session while wearing an ejection/escape spacesuit and helmet.
(NASA)
Space Shuttle Columbia launched mission STS-4 in June 1982 with Hartsfield as its pilot. Together with spacecraft commander Ken Mattingly, the two astronauts completed 112 orbits operating scientific experiments located in the orbiter's cabin as well as in the payload bay. The mission was the last before NASA declared the Space Shuttle as operational.

Hartsfield's next flew as commander of Discovery on its maiden flight in August 1984. The STS-41D crew earned the nickname "Icebusters" when Hartsfield successfully removed a hazardous ice-buildup using the arm (Remote Manipulator System).

Hartsfield's third and last mission, STS-61A was the first planned and controlled by a foreign customer, the West German D-1 Spacelab mission. It was also the first to fly eight crew members.

In 1998, Hartsfield retired from NASA after serving in management positions within the Space Shuttle Program and Space Station office. He went to work for Raytheon, where Hartsfield is today Vice President for Aerospace Engineering Services.

Commander-turned-contractor

In 1978, Brewster Shaw was selected by NASA for its first group of Space Shuttle astronauts. Before joining the Thirty-Five New Guys (TFNG), Shaw flew F-100 and F-4 fighters in the Vietnam War and served as a test pilot at Edwards Air Force Base in California.

Shaw's introduction to spaceflight came while flying on Columbia to the right of veteran commander John Young. STS-9 marked the first international shuttle crew and Spacelab's maiden 10-day mission between November and December 1983.

Two years (less two days) later, Shaw was commanding his own flight aboard Atlantis. STS-61B deployed three satellites and conducted two six-hour spacewalks to test space station construction techniques. After completing 108 orbits of the Earth, Shaw landed Atlantis on Runway 22 at Edwards.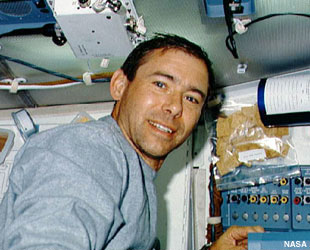 At an open stowage locker, STS-28 commander Brewster Shaw pauses to have his picture taken.
(NASA)
Following the Challenger accident in January 1986, Shaw supported the Rogers' Commission investigation. In 1989, Shaw commanded STS-28, launching classified payloads for the Department of Defense.

Shaw left NASA and the Air Force in 1996 after holding several management positions within the Space Shuttle Program at Johnson Space Center, NASA Headquarters and Kennedy Space Center. He joined Rockwell, which soon was acquired by The Boeing Company where Shaw led development of the International Space Station and later was named the Vice President for NASA Systems.

Since June 2003, Shaw has served as Executive Vice President and Chief Operating Officer of United Space Alliance, NASA's prime contractor for the Space Shuttle.

Foundation festivities

The Astronaut Scholarship Foundation will host a gala honoring the 2006 inductees at NASA's Kennedy Space Center's Apollo/Saturn V Center on May 5, 2006. The following day on May 6, a public induction ceremony will be held at the space center's visitor complex in Florida.

Many Hall of Fame astronauts are expected to join the celebrations to welcome the 2006 class, including Buzz Aldrin, Joe Allen, Vance Brand, Dan Brandenstein, Scott Carpenter, Jerry Carr, Robert Crippen, Walt Cunningham, Charles Duke, Owen Garriott, Hoot Gibson, Dick Gordon, Fred Haise, Rick Hauck, Jim Lovell, Ed Mitchell, Rusty Schweickart, Al Worden and John Young. Comedian Bill Dana (a.k.a. "Jose Jimenez") and HOF astronaut family members Laura Shepard-Churchley, Bobbie Slayton and Suzi Cooper will attend the festivities as special guests.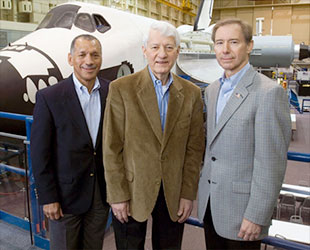 2006 US Astronaut Hall of Fame inductees Charles Bolden, Hank Hartsfield and Brewster Shaw pose together at NASA's Johnson Space Center in Houston, Texas.
(KSCVC/ASF)
The 2006 inductees were chosen by an ASF blue-ribbon committee of former NASA officials, flight controllers, journalists, historians and the Hall of Fame enshrinees.

To have been eligible for induction, an astronaut must have made his or her first flight at least 20 years before the induction year and must have retired from NASA's astronaut corps for at least five years. A candidate must be a U.S. citizen, NASA-trained and must have orbited the Earth at least once. In balloting, committee members evaluated not only an individual's flight accomplishments but also how he or she contributed to the success and future success of the U.S. Space Program in post-flight assignments.

collectSPACE founder and editor Robert Pearlman was a member of the committee that chose the 2006 inductees.