July 8, 2011
— Liftoff! The final liftoff of Atlantis! On the shoulders of the space shuttle, America will continue the journey. — George Diller, NASA's launch commentator, at Launch Control at Kennedy Space Center in Florida.

For a final time, a space shuttle lifted off and entered orbit Friday (July 8), marking the start of the end of NASA's 30 year space shuttle program and the closing chapter of an era in space exploration history.

Shuttle Atlantis lifted off at 11:29:04 a.m. EDT with a crew of four — commander Chris Ferguson, pilot Doug Hurley and mission specialists Sandy Magnus and Rex Walheim. Their launch beat the odds that poor weather would delay the liftoff and escaped a last minute hold that threatened to keep them on the launch pad.

The space shuttle spreads its wings one final time for the start of the sentimental journey into history. - Rob Navias, space shuttle mission commentator, from Mission Control at Johnson Space Center in Houston.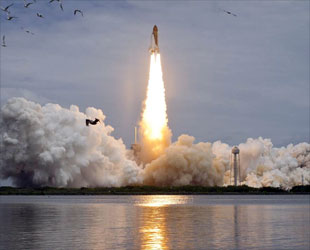 Birds take flight as NASA's final "bird" lifts off on its last mission at the Kennedy Space Center.
(NASA/Bill Ingalls)
Separating from its twin solid rocket boosters — one of which flying with a segment that also launched with the very first shuttle in 1981 — and then dropping its emptied external fuel tank, Atlantis reached space 8 minutes after departing the ground, embarking on its STS-135 mission to the International Space Station.

For the last time, a space shuttle's main engines have fallen silent. As the shuttle slips into the final chapter of a storied, 30-year adventure. — Navias.

Flying the 135th and last shuttle mission, Atlantis is set to deliver a year's worth of supplies to the space station prior to returning to Earth to close out the program.

Waiver for the weather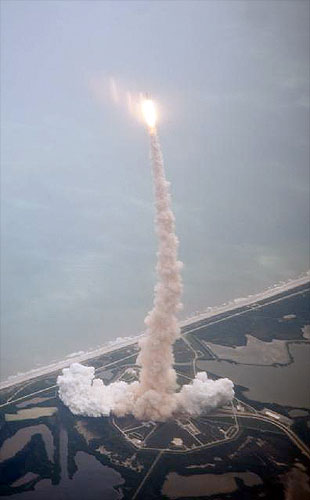 An aerial view of the final shuttle launch as viewed from aboard one of NASA's shuttle training aircraft.
(NASA/Dick Clark)
Final preparations to launch Atlantis got underway in the early morning hours of Friday with the loading of 535,000 gallons of liquid propellants into the shuttle's external fuel tank. The "tanking" process proceeded smoothly but the expectation was that it would be all for nil, given weather forecasts predicting a 70 percent chance that conditions would prevent an on-time liftoff.

Thunderstorms and showers, as well as cumulous clouds, were expected to blanket the vicinity of Kennedy Space Center's Launch Pad 39A, which violate the launch safety criteria.

As the day drew closer to launch time, the outlook for the weather improved, leaving only concerns for precipitation at the Florida spaceport's landing strip. Clear conditions were needed there if Atlantis had to make an emergency return home after launching.

That would have canceled the liftoff, but managers chose to waive their flight rule as they realized they had enough margin to fly safely.

"The chances of thundershowers is very low and I think we've got an acceptable risk," mission management team chair Mike Moses advised the launch team. "I think we've got sound rationale here to take that waiver."

"So with that we are clear, we're working no issues, you are go for launch," said Moses.

Smooth sailing but for mere seconds

"We're starting to feel pretty good on the ground about this one today, so on behalf of the greatest team in the world, good luck to you and your crew on the final flight of this true American icon," launch director Mike Leinbach said to Ferguson just before the countdown exited a planned hold and began ticking down from T-minus 9 minutes. "So for the final time, Fergie, Doug, Sandy and Rex, good luck, godspeed and have a little fun up there."

"Let's light this fire one more time and witness this great nation at its best," replied Ferguson. "The crew of Atlantis is ready for launch."

Atlantis appeared to be ready as well, as the countdown progressed without issue.

Then, at T-minus 31 seconds, just as Atlantis' on board computers were to take over from ground-based control, a literally last minute unexpected hold was called. Ground computers indicated that a gantry arm on the launch pad was not fully retracted.

The 65-foot long gaseous oxygen vent arm is mounted at the top of the pad's launch tower and supports the "beanie cap" that is placed atop the shuttle's external tank to vent excess oxygen before launch. At T-minus one minute and 45 seconds, the arm was retracted against the tower to be clear of the shuttle as it lifted off the pad.

NASA's launch control team quickly set to work directing cameras on the pad to inspect the status of the arm. Two minutes and 19 seconds later, they confirmed the arm had been fully retracted, and the count picked up again at 31 seconds to go to launch.

"Boy, I cannot wait to hear the story, both A, coming out of the T-minute nine [minute] hold and B, at T-minus 31 seconds. I'm sure there were a few folks on the edge of their seats down there," radioed Ferguson to Mission Control after he and his crew were safely in orbit.

A truly amazing day

Atlantis soared off the pad in front of an estimated crowd of nearly one million spectators, rivaling the audience for the July 1969 liftoff of Apollo 11, the first manned lunar landing mission.

Launching into an overcast sky, the shuttle was visible for its first 40 seconds of flight before it entered the clouds.

"What a truly awesome day today," stated NASA's space operations manager Bill Gerstenmaier. "We got to witness something really special and something really amazing."

"What you saw was the finest launch team and shuttle preparation teams in the world that got this vehicle ready to go fly," Gerstenmaier said.

Launching on the first attempt, Atlantis' reward may be an extra day in space. Mission managers expect to be able to extend the as-planned 12-day mission to 13 days as a result of preserving the reactants that power the shuttle's electricity-producing fuel cells.

As the launch team left their consoles for the final time, Leinbach wished them "good luck and godspeed."

"I am just very, very proud that we finished as strong from a launch perspective as we did," said Leinbach. "The mission [is] ahead of us, the landing [is] ahead of us, and then we'll be able to look back and celebrate. Today was a great day."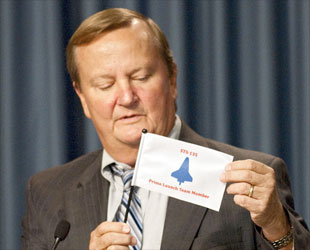 Launch director Mike Leinbach displays the "STS-135 Prime Launch Team Member" flag that he gave to his team.
(NASA)
Leinbach presented each of his team members with a small blue and white Atlantis flag as a keepsake of their role in the last launch.

"Little something to remember this morning's launch by," Leinbach told his team of the flags. "Maybe you carry it with you wherever you go in the future as a reminder you've been a member of the space shuttle launch team. The greatest launch team in the world."

Completing a chapter

"Thanks to you and your team Mike, until the very end, you all made it look very easy," radioed Ferguson before the launch.

NASA is ending the shuttle program after 135 missions to begin pushing outwards from Earth, sending astronauts to an asteroid, back to the moon and ultimately Mars.

Commercial crewed vehicles are now under development by four U.S. companies to assume the role the shuttle played delivering astronauts and supplies to and from the International Space Station.

Still, none of the next generation vehicles as planned will be as capable or adaptable as the space shuttle, which for three decades launched and serviced satellites, deployed planetary probes and astronomical observatories, studied the Earth, and visited and built space stations.

"The shuttle is always going to be a reflection of what a great nation can do when it dares to be bold and commits to follow through. We are not ending the journey today... we are completing a chapter of a journey that will never end," said Ferguson.

Follow the final mission's day-to-day activities by visiting collectSPACE's STS-135 Flight Day Journal.