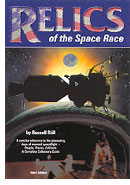 Also from Russell Still, Relics of the Space Race, now in its 3rd edition. Over 350 pages of manned spaceflight summaries and information on autographs, mission patches, documents and publications, philatelics, and mission artifacts. Available from PR Products, P.O. Box 832, Roswell, GA 30077.

Price is $24.95. Please add $4 for U.S. priority mail shipping or $10 for global priority mail.

Also, watch for these new books from Russ Still:
Three One Five, Buster!
Obscured by Clouds
For more from Russell Still, visit http://www.russellstill.com.
---
The Unbroken Chain | About Guenter | News & Updates | E-mail & Links
&copy 2001-2002 by Russell Still. All rights reserved.