June 26, 2011 — The astronauts slated to launch on NASA's final space shuttle mission took part June 23 in their last full dress rehearsal for their July liftoff.

Led by mission commander Chris Ferguson, the four crewmembers donned bright orange pressure suits and boarded shuttle Atlantis on Pad 39A at Kennedy Space Center in Florida.

After strapping into their seats on the flight deck, Ferguson, with pilot Doug Hurley and mission specialists Rex Walheim and Sandra Magnus, rehearsed the launch procedures that they will follow on the day they lift off, targeted for July 8 at 11:26 a.m. EDT.

Their mission, STS-135, is a 12-day flight to bring supplies and equipment to the International Space Station (ISS). It will be the 135th and last shuttle mission for NASA before the 30-year-old program is retired this year.

But this past week, the crew's mission was to gain familiarity with their spacecraft and the teams that will assist them on launch day.

"The biggest thing is that you are working with the whole team down here and actually going through a launch count right up until T-0," Hurley explained to collectSPACE during a Wednesday press conference at the launch pad. "You've got your suits, you got your suit techs, you are doing all the motions that you go through on launch day all the way out to the pad."

The training session has been a standard activity for all NASA shuttle missions and is known as the Terminal Countdown Demonstration Test, or TCDT.

"It is just a very comprehensive, hands-on-at-the-place-you're-going-to-do-it kind of training and it is invaluable," Hurley said. "You can do all the simulators in the world but until you get into that real vehicle, touch the vehicle, see what you can reach, see the different switches — everything is just a little bit different when you are in the real vehicle."

"It is a great way to get you ready for the launch day when it counts," he said.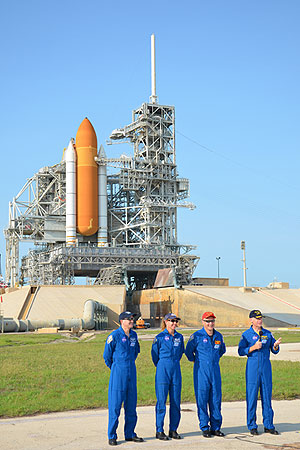 Photos: collectSPACE.com / Robert Z. Pearlman

Video: NASA Television / Kennedy Space Center