March 15, 2011 — Space shuttle Endeavour, NASA's fifth and final shuttle orbiter to enter service, arrived for the last time at its launch pad March 10, the morning after its older sibling, space shuttle Discovery, made its final return from space.

Targeted to launch on its own final mission, STS-134, on April 19, Endeavour and its six-person crew will bring to the International Space Station (ISS) the Alpha Magnetic Spectrometer, a state-of-the-art cosmic ray particle physics detector to examine fundamental issues about matter and the origin and the structure of the universe.

The mission will also carry the third ExPRESS Logistics Carrier (ELC3) with spare parts for the ISS, including two S-band communication antennas, a high-pressure gas tank, additional spare parts for the Canadian robot Dextre and micrometeoroid debris shields.

Endeavour's final path to the pad began Feb. 28 when it left its processing facility at the Kennedy Space Center in Florida and was rolled over to NASA's 52-story Vehicle Assembly Building to be lifted and mated with its external tank and solid rocket boosters.

Endeavour's 26th and final scheduled rollout to the launch pad began at 7:56 p.m. EST March 9. Riding atop an Apollo-era crawler transporter, the shuttle made the three-and-a-half-mile trip to Pad 39A in a little less than eight hours.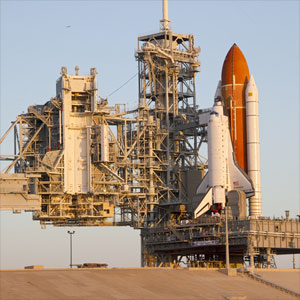 Space shuttle Endeavour on Launch Pad 39A

Photos: NASA / Jack Pfaller / Frankie Martin
Jim Grossmann / Kim Shiflett