advertisements





The Source for Space History and Artifacts

September 19, 2014 / 5:25 a.m. CT (1025 GMT)


Made In Space: The first 3D printer built for use in space will soon to be installed on the International Space Station, marking the first time that a machine will be used off-world to make parts and tools. But what to print first? "It needed to be significant, but functional," hinted Made In Space's lead engineer, noting it is also "incredibly secret."

September 16, 2014 / 8:40 p.m. CT (0140 GMT Sep 17)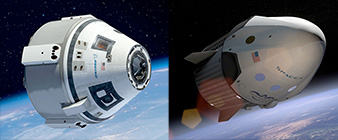 Commercial crew: "We do not know who is going to get to command the first mission to carry humans into low-Earth orbit on board a spacecraft built by a U.S. private company, but we know it will be a seminal moment in NASA history and a major achievement for our nation. We now know, however, who will build it." NASA Administrator Charles Bolden announced Tuesday (Sep. 16) that Boeing and SpaceX were selected to taxi NASA astronauts to the space station using their CST-100 and Dragon spacecraft.

September 15, 2014 / 6:45 p.m. CT (2345 GMT)


NASA 911 lands on display: More than two years after its final flight, the second of two modified Boeing 747 jets that ferried NASA's space shuttle orbiters completed its final leg Friday (Sep. 12): a less-than-a-mile tow from the Armstrong Flight Research Center's aircraft operations facility in Palmdale, California, to the Joe Davies Heritage Airpark. Known by its tail number, "NASA 911," the Shuttle Carrier Aircraft has landed on permanent public display.



advertisement


Winco International presents... an official NASA limited edition set

September 15, 2014 / 12:00 a.m. CT (0500 GMT)


Apply to fly: Spaceship Earth Grants (SEG) has launched a new program to send private citizens to space, holding a contest to crowd fund an open number of space flight awards. Led by former astronauts Leland Melvin and Ron Garan, SEG will award one sub-orbital spaceflight for every 50,000 applications, but as the number of applicants increase, so will the rate of SEG awards (to as high as one in 25,000). SEG's focus however, is not in the spaceflights themselves, but how the winners apply the experience.

September 12, 2014 / 3:00 a.m. CT (0800 GMT)


Achieve through excellence: In 1972, flight director Gene Kranz asked respected space artist Robert McCall to design an emblem for the team that staffed Mission Control. Forty years and five revisions later, the latest take on McCall's patch symbolizes the changes to the missions and directorates that comprise NASA's Flight Operations.

September 10, 2014 / 11:20 p.m. CT (0420 GMT)


Soyuz TMA-12M returns (with whiskey): A trio of spacemen returned safely to Earth on Wednesday (Sep. 10), landing on the steppe of Kazakhstan after five and a half months living and working on the International Space Station. NASA astronaut Steve Swanson and cosmonauts Alexander Skvortsov and Oleg Artemyev landed on board the Soyuz TMA-12M spacecraft, toting 20 vials of whiskey molecules as part of a commercial science experiment.

September 10, 2014 / 2:25 p.m. CT (1925 GMT)


Buzz Aldrin, 'Simpsons'-style: Buzz Aldrin will join Weird Al Yankovic and Aerosmith as among the latest celebrities to be made into limited edition toy figures celebrating the '25 Greatest Guest Stars' to have ever appeared on "The Simpsons." Aldrin's action figure, which replicates his animated likeness from the 1994 episode "Deep Space Homer," will be available in 5-inch and 2-inch tall models.



special feature


Updates | Photo Galleries | Timeline | Shuttle Tracker | Discussions

September 8, 2014 / 6:50 p.m. CT (2350 GMT)


Space Explorer watches: Former astronaut Clay Anderson is lending his experience and signature to a new line of watches designed for wear by commercial space station crews. The Space Explorer watches are the product of a partnership between Modern Concept Watches (under the Giorgio Fedon 1919 name) and SpaceTek, which plans to operate an upgraded Soviet-era space station as part of a joint venture with the spaceflight firm Excalibur Almaz.

September 5, 2014 / 6:05 p.m. CT (2305 GMT)


Laser scanning launch pads: The U.S. Air Force's 45th Space Wing has partnered with the University of South Florida's Alliance for Integrated Spatial Technologies to use laser scanners to survey, map, and create models of the historic launch complexes at the Cape Canaveral Air Force Station in Florida. The Air Force plans to use the 3D models to inform its budget-constrained efforts to preserve and restore the pads, as well as possibly offer the public a chance to virtually tour the aging launch structures.

September 4, 2014 / 2:15 p.m. CT (1915 GMT)


Tim Peake's patch: Blue Peter, the world's longest-running children's television show, is holding a contest to design the official space patch for Tim Peake, Britain's first astronaut to fly to the International Space Station. The winning patch will launch with Peake on his 2015 mission, which the European Space Agency has named "Principia." The Blue Peter contest, which is open to kids in the United Kingdom ages 6 to 15, began on Thursday (Sept. 4).

September 2, 2014 / 8:05 a.m. CT (1305 GMT)


Soviet dog spacesuit sale: A lace-up, four-legged 'spacesuit' used to train Soviet space dogs is the highlight lot at Auctionata's Sept. 13 sale of Russian space relics. The canine-sized compression suit and other Soviet-era space artifacts were consigned by Andora, a German artist who once painted a space-bound Russian Proton rocket.

August 31, 2014 / 4:35 p.m. CT (2135 GMT)


LEGO Hubble: Gabriel Russo's design for a Hubble Space Telescope made out of LEGO bricks will be reviewed by LEGO for possible production, now that it's topped 10,000 votes on the Danish toy company's Ideas website. Russo proposed the model to mark the 25th anniversary of the orbital observatory's launch next April. The set is sized to be LEGO minifigure-scale, and includes two astronauts.

August 28, 2014 / 11:45 a.m. CT (1645 GMT)


Tire marks and teardrop tiles: Thirty years ago Saturday (Aug. 30), NASA's third orbiter lifted off on its maiden flight. Three decades later, space shuttle Discovery is exhibited at the Smithsonian's Udvar-Hazy Center. What would Discovery think of its setting? "It would love being in so many selfies because everybody takes a picture beside Discovery," said curator Valerie Neal, marking the orbiter's anniversary by taking part in an AMA (Ask Me Anything).

August 28, 2014 / 7:30 a.m. CT (1230 GMT)


Committing to launch: NASA committed to building the heavy-lift Space Launch System (SLS) Wednesday (Aug. 27), announcing the rocket had passed a key review, progressing from formulation to development, something no other exploration class vehicle has achieved since the space shuttle. As part of the review, the agency set a cost baseline of $7.021 billion and approved a launch readiness schedule for the first SLS to fly no later than Nov. 2018.

August 26, 2014 / 6:30 p.m. CT (2330 GMT)


Restoring a retired rocket: For nine years, it has sat, separated into huge parts, waiting inside a World War II-era hangar in Ohio. On Tuesday (Aug. 26), the National Museum of the U.S. Air Force announced it was time to begin restoring its Titan 4B space launch vehicle so that it can be exhibited in the museum's fourth building opening in 2016. The more than 200-foot-tall rocket is the largest item the museum has restored and its curators are seeking help from those who worked on the retired Titan 4B program.

August 25, 2014 / 3:30 p.m. CT (2030 GMT)


Beyond Neptune: In a cosmic coincidence evoking a space history connection, NASA's New Horizons spacecraft traversed the orbit of Neptune on Monday (Aug 25), 25 years to the day after Voyager 2 encountered the gas planet. The probe, on its way to a July 2015 flyby of Pluto, missed Neptune by 2.5 billion miles, but mission managers marked the milestone by sharing a new image of the planet and its moon Triton captured by New Horizons in July.



[ browse earlier updates ]




© 1999-2014 collectSPACE.com contact@collectspace.com