advertisements





The Source for Space History and Artifacts

March 15, 2014 / 6:10 p.m. CT (2310 GMT)


Orion EFT-1 delays to December: The first flight of the Orion capsule, Exploration Flight Test-1 (EFT-1), has slipped from September to December to allow for "more opportunities for launches this year," NASA confirmed on Friday (March 14). Despite the delay, the space agency is maintaining its original schedule to complete the assembly and testing of the spacecraft. EFT-1 will launch the Orion on a two-orbit flight that will travel 15 times farther out into space than the International Space Station before returning to Earth faster than any contemporary human spacecraft.

March 14, 2014 / 5:00 a.m. CT (1000 GMT)


Houston, we're 'Live From Space': For the first time, NASA will open its active Mission Control Center to a live television broadcast Friday (March 14). National Geographic will air "Live From Space," a two-hour special to feature the orbiting laboratory as it completes a full orbit of the Earth. The show's executive producer, Al Berman, told collectSPACE that TV audiences have yet to see anything like "Live From Space." "If they've any interest in space at all, I think they will be riveted throughout the entire time."

March 11, 2014 / 5:10 p.m. CT (2210 GMT)


Project MERCCURI: Space history is set to be grown on the International Space Station, thanks to a group of cheerleaders. Microbes found on John Glenn's Mercury capsule, on eight Mars spacecraft, and on a camera with a connection to Buzz Aldrin will launch with other bacteria on SpaceX's CRS-3 Dragon as part of Project MERCCURI, a citizen science experiment by UC Davis, SciStarter, and the NBA and NFL members of Science Cheerleader.



advertisement


Winco International presents... an official NASA limited edition set

March 10, 2014 / 10:35 p.m. CT (0335 GMT March 11)


Soyuz TMA-10M lands: One-hundred-sixty-six (166) days after leaving the Earth for the International Space Station (ISS), the Soyuz TMA-10M crew returned Monday (March 10) to a landing in Kazakhstan. Oleg Kotov and Sergey Ryazanskiy of Roscosmos and Michael Hopkins of NASA served on the space station's Expedition 37 and 38 crews; their undocking marked the start of Expedition 39.

March 10, 2014 / 6:30 a.m. CT (1130 GMT)


SpX-3's three-sided patch: SpaceX's patch for its third Dragon mission to deliver cargo to the International Space Station (ISS) has three sides and depicts three milestones for the NASA-contracted Commercial Resupply Services-3 (CRS-3) flight. Scheduled to launch on Sunday (March 16), the company's unmanned Dragon capsule will carry science to and from the orbital outpost, including HD camera and laser communication experiments. The Falcon 9 rocket used to loft CRS-3 (SpX-3) will also be the first to sport landing legs to be used in a "soft splashdown" test.

March 9, 2014 / 6:20 a.m. CT (1120 GMT)


Kibo commander: "Welcome Wakata-san," radioed Japan's mission control in Tskuba to JAXA astronaut Koichi Wakata, marking his becoming the first Japanese commander of the International Space Station. Wakata will lead the orbiting outpost's 39th expedition, which will begin Monday (March 10) and extend to May. "I'm very proud as a Japanese to be be given this important commandership of ISS," Wakata said while gathered with his crewmates in Japan's Kibo laboratory aboard the station on Sunday.

March 7, 2014 / 12:45 p.m. CT (1845 GMT)


Land the STA: One of NASA's four Shuttle Training Aircraft (STA) is set to land at the U.S. Space & Rocket Center for display, but not without your help. The Alabama home to Space Camp has launched a crowd-funding campaign to help prepare their Shuttle Park for the arrival of the modified Gulfstream II business jet. In return for the public's support, the center is offering STA logo mementos and experiences, including behind-the-scenes VIP tours.



special feature


Updates | Photo Galleries | Timeline | Shuttle Tracker | Discussions

March 6, 2014 / 8:55 a.m. CT (1455 GMT)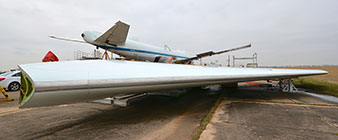 Some disassembly required: When NASA 905, NASA's original Shuttle Carrier Aircraft, moves to Space Center Houston this spring, it will do so in several still-very-large pieces. The dismantling of the historic jumbo jet will allow for NASA 905 to navigate from Ellington Field to the Johnson Space Center's official visitor center, where, once it is reassembled, the airplane will be paired with the space shuttle Independence high-fidelity mockup for display.

March 5, 2014 / 8:50 a.m. CT (1450 GMT)


Mars map blasts off: Just a week after the launch of its Mars Crater Map crowd-funding project, Uwingu says it has raised more than $80,000 through the naming of over 6,000 of the Martian landmarks. Though the names it charts are unofficial, Uwingu has entered into a partnership that will put its map into use on the Red Planet. Mars One, which aims to land four astronauts on Mars in 2025, will fly and use the Uwingu map on its robotic and human flights.

March 4, 2014 / 6:20 p.m. CT (0020 GMT March 5)


William Pogue, 1930-2014: Skylab 3 (SL-4) pilot William R. "Bill" Pogue died on Monday (March 3). He was 84. Selected as a NASA astronaut in 1966, Pogue had been slated to fly to the moon on Apollo 19 but the mission was canceled due to budget cuts. Instead, Pogue spent 84 days onboard the United States' first space station, setting (with his crewmates) a record for the longest human space flight at that time (1974). Prior to his joining NASA, Pogue was a pilot with the U.S. Air Force Thunderbirds.

March 2, 2014 / 11:35 p.m. CT (0535 GMT March 3)


Pull of "Gravity": "Gravity" was in full force at the Academy Awards on Sunday evening (March 2), pulling in seven Oscars, including best director for Alfonso Cuarón. The space thriller, which featured detailed depictions of real-life spacecraft and was made with technical advice by astronauts aboard the real space station, won all but three of the Oscars for which it was nominated. The real crew of the International Space Station sent congratulations to the filmmakers on the awards, thanking them for "bringing this ultimate in extreme environments to moviegoers."

February 28, 2014 / 5:05 p.m. CT (2305 GMT)


@NASAArmstrong: The process to rename Dryden Flight Research Center for Apollo 11 moonwalker Neil Armstrong began on Friday (Feb. 28), as NASA updated its website and social media addresses. Over the course of the next several months, work will commence to make the physical changes at the California center, where its nearby test range will carry forth the Dryden name. A formal public ceremony marking the "Neil A. Armstrong Flight Research Center" and "Hugh L. Dryden Aeronautical Test Range" as the facilities' new names is planned for later this spring.

February 27, 2014 / 1:10 p.m. CT (1910 GMT)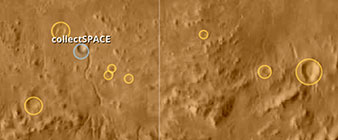 People's map of Mars: If NASA's Curiosity Mars rover someday reaches the summit of Mount Sharp at the center of Gale Crater, it may be able to see a 1-mile wide depression now forever to be known — at least on one map — as collectSPACE crater. "Named in celebration of the thousands of space history enthusiasts who comprise the collectSPACE community," the crater was recorded on Uwingu's new website, which seeks to name all of the Red Planet's 500,000 unlabeled craters, while raising funds for grants in space exploration, research and education.

February 25, 2014 / 7:35 p.m. CT (0135 GMT Feb 26)


'Gravity' drops: On Sunday (Feb. 23), Rick Mastracchio watched "Gravity." That, alone, wouldn't be so newsworthy if it wasn't for his being aboard the International Space Station at the time. "Let's call it training," he posted to Twitter. Now everyone can do the same (watch 'Gravity,' not screen it on the space station). Tuesday, Warner Bros. released "Gravity" on Blu-ray and DVD for the Earth-bound masses, including hours of extras that explore the making of the movie and the real science behind space debris.

February 24, 2014 / 1:35 p.m. CT (1935 GMT)


Solar System stamps: The "Solar System" is among a list of approved subjects that the U.S. Postal Service is planning, but has not yet announced, for issue in 2014, according to a list leaked to the Washington Post. Now in design development, the solar system stamps would be the first space or astronomy-related stamps the USPS has released since the 2011 "Mercury Project" (Alan Shepard) and "MESSENGER Mission" pair. The upcoming planetary postage is targeted for October, per another leaked list.

February 21, 2014 / 4:30 a.m. CT (1030 GMT)


Dale Gardner, 1948-2014: A two-time space shuttle astronaut who was the last to fly the manned maneuvering unit (MMU) jetpack as he helped to perform the first space salvage of faulty satellites in orbit, Dale Gardner died Wednesday (Feb. 19). He was 65. Gardner flew on orbiters Challenger and Discovery as a part of the STS-8 and STS-51A crews in 1983 and 1984, respectively. A naval officer, Gardner joined the astronaut corps in 1978 with the "Thirty-Five New Guys," NASA's first recruits for the shuttle.



[ browse earlier updates ]




© 1999-2014 collectSPACE.com contact@collectspace.com