advertisements





The Source for Space History and Artifacts

September 2, 2014 / 8:05 a.m. CT (1305 GMT)


Soviet dog spacesuit sale: A lace-up, four-legged 'spacesuit' used to train Soviet space dogs is the highlight lot at Auctionata's Sept. 13 sale of Russian space relics. The canine-sized compression suit and other Soviet-era space artifacts were consigned by Andora, a German artist who once painted a space-bound Russian Proton rocket.

August 31, 2014 / 4:35 p.m. CT (2135 GMT)


LEGO Hubble: Gabriel Russo's design for a Hubble Space Telescope made out of LEGO bricks will be reviewed by LEGO for possible production, now that it's topped 10,000 votes on the Danish toy company's Ideas website. Russo proposed the model to mark the 25th anniversary of the orbital observatory's launch next April. The set is sized to be LEGO minifigure-scale, and includes two astronauts.

August 28, 2014 / 11:45 a.m. CT (1645 GMT)


Tire marks and teardrop tiles: Thirty years ago Saturday (Aug. 30), NASA's third orbiter lifted off on its maiden flight. Three decades later, space shuttle Discovery is exhibited at the Smithsonian's Udvar-Hazy Center. What would Discovery think of its setting? "It would love being in so many selfies because everybody takes a picture beside Discovery," said curator Valerie Neal, marking the orbiter's anniversary by taking part in an AMA (Ask Me Anything).



advertisement


Winco International presents... an official NASA limited edition set

August 28, 2014 / 7:30 a.m. CT (1230 GMT)


Committing to launch: NASA committed to building the heavy-lift Space Launch System (SLS) Wednesday (Aug. 27), announcing the rocket had passed a key review, progressing from formulation to development, something no other exploration class vehicle has achieved since the space shuttle. As part of the review, the agency set a cost baseline of $7.021 billion and approved a launch readiness schedule for the first SLS to fly no later than Nov. 2018.

August 26, 2014 / 6:30 p.m. CT (2330 GMT)


Restoring a retired rocket: For nine years, it has sat, separated into huge parts, waiting inside a World War II-era hangar in Ohio. On Tuesday (Aug. 26), the National Museum of the U.S. Air Force announced it was time to begin restoring its Titan 4B space launch vehicle so that it can be exhibited in the museum's fourth building opening in 2016. The more than 200-foot-tall rocket is the largest item the museum has restored and its curators are seeking help from those who worked on the retired Titan 4B program.

August 25, 2014 / 3:30 p.m. CT (2030 GMT)


Beyond Neptune: In a cosmic coincidence evoking a space history connection, NASA's New Horizons spacecraft traversed the orbit of Neptune on Monday (Aug 25), 25 years to the day after Voyager 2 encountered the gas planet. The probe, on its way to a July 2015 flyby of Pluto, missed Neptune by 2.5 billion miles, but mission managers marked the milestone by sharing a new image of the planet and its moon Triton captured by New Horizons in July.

August 25, 2014 / 5:00 a.m. CT (1000 GMT)


Mate-Demate demolition: The iconic space shuttle Mate-Demate Device that has been a fixture at NASA's Armstrong Flight Research Center at Edwards Air Force Base, Calif., for the past 38 years is being dismantled, three years after the shuttle program ended and six years since it last supported turnaround operations after the last shuttle landing on the west coast. The 110-foot tall MDD structure supported 59 shuttle landings between 1977 and 2009.



special feature


Updates | Photo Galleries | Timeline | Shuttle Tracker | Discussions

August 22, 2014 / 3:00 p.m. CT (2000 GMT)


Steven Nagel, 1946-2014: Former astronaut Steve Nagel died on Thursday evening (Aug. 21) at age 67. A veteran of four spaceflights, Nagel first served as a mission specialist on STS-51G in 1985 and then piloted the space shuttle on STS-61A later that same year. He commanded his third and fourth missions, STS-37 and STS-55, in 1991 and 1993. In total, he spent more than 30 days in space.

August 20, 2014 / 12:00 a.m. CT (0500 GMT)


'Astronaut's Guide,' the sitcom: Canadian astronaut Chris Hadfield's "Guide To Life On Earth" will be the basis for a new TV sitcom, Deadline Hollywood reported Tuesday (Aug. 19). ABC has committed to producing a pilot episode for the series about an "astronaut who's back from space and finds that re-entering domestic life might be the hardest mission he's ever faced." Penned and produced by the creative team behind "S#*! My Dad Says," Hadfield will be a consulting producer on the 'Astronaut's Guide' series.

August 19, 2014 / 10:00 a.m. CT (1500 GMT)


'Beam Me to Mars': Space research funding company Uwingu announced Tuesday (Aug. 19) the launch of "Beam Me to Mars," a new project allowing anyone to be part of a global "shout-out" to Mars. The broadcast, which is set for Nov. 28, is timed to coincide with and celebrate the 50th anniversary of Mariner 4, the first successful mission to reach the Red Planet and return photos of the surface.

August 18, 2014 / 10:05 a.m. CT (1505 GMT)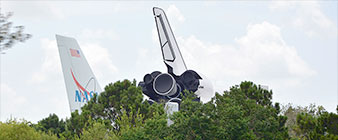 You can see the shuttle from here: Space Center Houston's newly-stacked shuttle and carrier aircraft display is now visible from the surrounding Clear Lake area. From offices to hotels, roadways and overpasses, the eight-story-tall exhibit of the replica space shuttle Independence and historic Shuttle Carrier Aircraft is a new feature on the city's skyline, as this collectSPACE photo gallery shows.

August 16, 2014 / 2:30 p.m. CT (1930 GMT)


'American Flag on the Moon': Standing on NASA's Launch Pad 39B on Saturday (Aug. 16), country music star Brad Paisley 'leaked' his new song, "American Flag on the Moon." The singer's tweet announcing the leak drew the attention of NASA astronaut Reid Wiseman aboard the International Space Station. "Hold on, we don't usually like leaks at the launch pad." The song, which will be released with Paisley's new album on Aug. 26, was inspired by his 5 year old son's attempt to see the U.S. flag on the moon.

August 15, 2014 / 4:00 p.m. CT (2100 GMT)


Hello Kitty in space: Japan's famous feline Hello Kitty is now in orbit celebrating its 40th anniversary. A 1.5-inch-tall figure of the cute cat was launched onboard the small satellite Hodoyoshi 3, posed by a window with a view of the Earth below. Sanrio, the company that created Hello Kitty, is inviting fans to submit messages to be shown with the popular character's figure in videos sent from space.

August 14, 2014 / 1:00 p.m. CT (1800 GMT)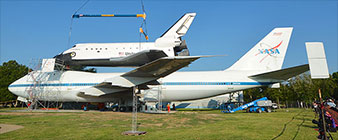 Rise of Independence: Eyes were drawn to the sky Thursday (Aug. 14) as a crane lifted Space Center Houston's mock space shuttle "Independence" atop NASA's Shuttle Carrier Aircraft. The pairing was the latest milestone toward a new $12 million, eight-story attraction set to open in 2015 devoted to educating children and the public about the history and Houston's role in the shuttle program.

August 13, 2014 / 7:15 p.m. CT (0015 GMT Aug 14)


ATV commemorative kit: Europe's fifth and final space freighter, the Automated Transfer Vehicle-5 "Georges Lemaître," docked to the aft port on the International Space Station's Russian Zvezda service module on Tuesday (Aug. 12) to deliver six tons of fuel and supplies. On board the spacecraft is one of only 100 commemorative box sets that the European Space Agency assembled to honor the history of the fleet and its visionary scientist namesakes.

August 11, 2014 / 1:30 p.m. CT (1830 GMT)


Marking a year in space: Less than a year remains before the first year-long mission on the International Space Station. From March 2015 to March 2016, NASA astronaut Scott Kelly and cosmonaut Mikhail Kornienko with Roscosmos will gather data to better ready future crews to leave Earth orbit and explore the solar system. The crew's recently revealed patch celebrates their "Year in Space."



[ browse earlier updates ]




© 1999-2014 collectSPACE.com contact@collectspace.com