advertisements





The Source for Space History and Artifacts

July 11, 2014 / 10:55 a.m. CT (1555 GMT)


Apollo 11 space pens: Fisher Space Pen is marking 45 years since its pressurized pens journeyed to the moon on Apollo 11 with two new space pens. The "Special Edition" 45th Anniversary Astronaut Space Pen features a blue titanium nitride finish and "Apollo 11" starry engraving. The limited edition Apollo 11 45th anniversary space pen is engraved with a moon landing scene and comes packaged with a crystal base and 3D lunar module engraved globe.

July 8, 2014 / 9:25 a.m. CT (1425 GMT)


#Apollo45: Everywhere Buzz Aldrin travels, the people he encounters tell him where they were when he and Neil Armstrong walked on the moon. "I used to keep a little black book to keep track of where everybody was," the astronaut says. Now, for the 45th anniversary of Apollo 11, Aldrin has taken his little black book digital and launched a social media campaign to ask "Where were you?" You can share your moon landing stories using hashtag #Apollo45.

July 7, 2014 / 1:30 p.m. CT (1830 GMT)


Armstrong O&C: NASA is renaming one of its facilities at the Kennedy Space Center in Florida in honor of the first person to set foot on the moon. A ceremony to be held July 21 will celebrate the renaming of the Operations and Checkout (O&C) Building for Neil Armstrong. Timed to coincide with the 45th anniversary of the first lunar landing, the event will include remarks by Armstrong's Apollo crew mates Buzz Aldrin and Michael Collins.



advertisement


Winco International presents... an official NASA limited edition set

July 3, 2014 / 6:35 a.m. CT (1135 GMT)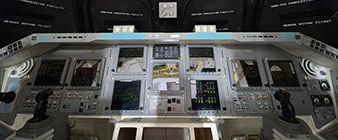 Inside Independence: On Aug. 14 (weather permitting), a 180-foot crane will hoist Space Center Houston's high-fidelity mockup space shuttle, the Independence, on top of NASA's historic Shuttle Carrier Aircraft for an exhibit unlike any other in the world. When opened to the public in 2015, guests will be able to walk through the jet and replica orbiter. collectSPACE offers an exclusive first look at what guests will experience when they go inside Independence.

July 1, 2014 / 12:00 a.m. CT (0500 GMT)


Space brew: The Great Lakes Brewing Co's new seasonal beer celebrates the more than two dozen astronauts who have called Ohio home. 'Spacewalker American Belgo,' which the Cleveland beer-maker and pub will offer on tap Wednesday (July 2) and in bottles the following day, honors the 25 astronauts who've hailed from Ohio and the nine Ohioans who have logged hours walking in space.

June 26, 2014 / 9:00 a.m. CT (1400 GMT)


Cosmonaut Kinina: Just over a week after she was excluded from Russia's cosmonaut corps, the federal space agency Roscosmos has reinstated Anna Kikina. The 29-year-old engineer, who was recruited in 2012 as the only female candidate in her group, will reportedly need to undergo another year of training before she will be eligible for a spaceflight. Kikina now stands the chance to become only the fifth Russian woman in history to fly in space.

June 24, 2014 / 5:00 a.m. CT (1000 GMT)


Time Capsule to Mars: A student-led effort to launch a Time Capsule to Mars stands to set several historic firsts. The project, which as of Monday (June 23) is crowd-funding the flight of photos to raise $25 million, could be the first private mission to Mars, first interplanetary use of CubeSats, first student-led endeavor to another planet, and the first interplanetary test of ion-electrospray propulsion.



special feature


Updates | Photo Galleries | Timeline | Shuttle Tracker | Discussions

June 23, 2014 / 6:00 a.m. CT (1100 GMT)


Cosmosphere's new mission: The Kansas Cosmosphere has launched Liberty Bell 7 on the first leg of a journey to Germany, but the museum has a new mission for the Mercury capsule and the other spacecraft it displays. The Cosmosphere is devoting five years and $15 million to revitalize its exhibits to "inspire innovation through science education and honor the history of space exploration."

June 18, 2014 / 6:20 p.m. CT (2320 GMT)


Soft mark in history: United Space Alliance (USA) on Wednesday (June 18) presented a framed collection of 135 shuttle mission pins and a flown-in-space American flag to Space Center Houston in recognition of the workers who made the 30-year NASA program possible. USA is, or already has, made similar presentations to Kennedy Space Center, the Space Foundation and the US Space & Rocket Center as its means of "leaving a soft mark in history."

June 16, 2014 / 2:50 p.m. CT (1950 GMT)


Six new cosmonauts: Russia graduated six new test-cosmonauts on Monday (June 16), two years after they were chosen to undergo basic training. The new class of cosmonauts includes five engineers and a military pilot of ages ranging between 30 and 36. The group is short two of its original candidates: one was medically disqualified; the other, the only woman, was cut for unannounced reasons.

June 16, 2014 / 5:00 a.m. CT (1000 GMT)


ISSpresso: In a bid to improve the quality of life on the International Space Station and to extend the Made-in-Italy brand to space, two Italian companies have collaborated with the Italian Space Agency to develop and launch a coffee machine for the orbital complex. The ISSpresso is a capsule-based espresso machine capable of brewing the caffeinated beverage in weightlessness, offering the space station crew an upgrade to the instant coffee that has been the only option to date. Built by coffee retailer Lavazza and Argotec aerospace company, the ISSpresso can also brew tea, infusions and broth, so that food can be rehydrated.

June 11, 2014 / 4:10 p.m. CT (2110 GMT)


Astronaut Wives Club: Lily Koppel is flying high. One year after the release of her latest bestseller, "The Astronaut Wives Club," the book is newly out in paperback, has inspired dessert and cocktail "retro-recipes," and will soon be the basis for a limited event television series to air on ABC. collectSPACE.com caught up with Koppel as she launched on her second "Astronaut Wives Club" book tour to reflect on the past year, talk about the softcover edition and learn if she will be playing an astronaut wife on TV.

June 6, 2014 / 4:55 p.m. CT (2155 GMT)


Astronaut's cloaked Klingon space patch: You could say that Steve Swanson "bumped heads" with NASA's lawyers over the design of the Expedition 40 patch. Swanson, who is commanding the International Space Station and its six-person crew, worked with his daughter to design the emblem, which originally was based on a logo for Star Trek's bumpy-headed Klingons. Revealed here, Swanson's "badass" design that was jettisoned before it could launch.

June 3, 2014 / 6:00 a.m. CT (1100 GMT)


Sally Ride, AFWIS: As she would later sign off on notes, Sally Ride became 'AFWIS,' or "America's First Woman In Space," flying on the shuttle Challenger in 1983. But the label, which serves as a subtitle for journalist Lynn Sherr's new biography about the public, private, and secret lives of the late astronaut, wasn't how Sally Ride chose to identify herself. In this interview with collectSPACE, Sherr discusses her friend's legacy as celebrated in "Sally Ride: America's First Woman in Space," out Tuesday (June 3).

May 31, 2014 / 10:05 a.m. CT (1505 GMT)


'Leave Your Mark' emblem contest: World View Enterprises has launched a contest to design an emblem for its 'Voyagers' who will fly to the 'edge of space' onboard its balloon-lofted, fully-pressurized 'space capsule.' The "Leave Your Mark on Spaceflight" competition invites the public to both design and vote on insignias. The winner will be awarded $500 and an all-expenses paid trip for two to witness the unveiling of World View's space capsule.

May 30, 2014 / 3:25 a.m. CT (0825 GMT)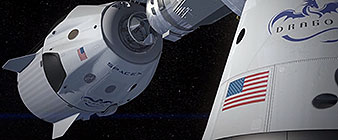 SpaceX Dragon V2: SpaceX CEO and chief designer Elon Musk unveiled the company's upgraded Dragon V2 (Version 2) capsule on Thursday (May 29), debuting a "21st century spaceship" designed to fly astronauts to and from Earth orbit. Among the capsule's features are leather-lined bucket seats for up to seven crew members, landing legs, and the world's first printed engines. Developed to be fully reusable, the Dragon V2 may fly uncrewed as soon as late next year and with its first astronauts by mid-2016.



[ browse earlier updates ]




© 1999-2014 collectSPACE.com contact@collectspace.com