advertisements





The Source for Space History and Artifacts

August 20, 2014 / 12:00 a.m. CT (0500 GMT)


'Astronaut's Guide,' the sitcom: Canadian astronaut Chris Hadfield's "Guide To Life On Earth" will be the basis for a new TV sitcom, Deadline Hollywood reported Tuesday (Aug. 19). ABC has committed to producing a pilot episode for the series about an "astronaut who's back from space and finds that re-entering domestic life might be the hardest mission he's ever faced." Penned and produced by the creative team behind "S#*! My Dad Says," Hadfield will be a consulting producer on the 'Astronaut's Guide' series.

August 19, 2014 / 10:00 a.m. CT (1500 GMT)


'Beam Me to Mars': Space research funding company Uwingu announced Tuesday (Aug. 19) the launch of "Beam Me to Mars," a new project allowing anyone to be part of a global "shout-out" to Mars. The broadcast, which is set for Nov. 28, is timed to coincide with and celebrate the 50th anniversary of Mariner 4, the first successful mission to reach the Red Planet and return photos of the surface.

August 18, 2014 / 10:05 a.m. CT (1505 GMT)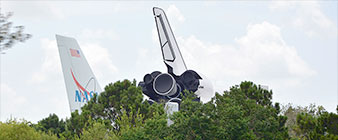 You can see the shuttle from here: Space Center Houston's newly-stacked shuttle and carrier aircraft display is now visible from the surrounding Clear Lake area. From offices to hotels, roadways and overpasses, the eight-story-tall exhibit of the replica space shuttle Independence and historic Shuttle Carrier Aircraft is a new feature on the city's skyline, as this collectSPACE photo gallery shows.



advertisement


Winco International presents... an official NASA limited edition set

August 16, 2014 / 2:30 p.m. CT (1930 GMT)


'American Flag on the Moon': Standing on NASA's Launch Pad 39B on Saturday (Aug. 16), country music star Brad Paisley 'leaked' his new song, "American Flag on the Moon." The singer's tweet announcing the leak drew the attention of NASA astronaut Reid Wiseman aboard the International Space Station. "Hold on, we don't usually like leaks at the launch pad." The song, which will be released with Paisley's new album on Aug. 26, was inspired by his 5 year old son's attempt to see the U.S. flag on the moon.

August 15, 2014 / 4:00 p.m. CT (2100 GMT)


Hello Kitty in space: Japan's famous feline Hello Kitty is now in orbit celebrating its 40th anniversary. A 1.5-inch-tall figure of the cute cat was launched onboard the small satellite Hodoyoshi 3, posed by a window with a view of the Earth below. Sanrio, the company that created Hello Kitty, is inviting fans to submit messages to be shown with the popular character's figure in videos sent from space.

August 14, 2014 / 1:00 p.m. CT (1800 GMT)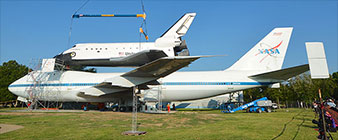 Rise of Independence: Eyes were drawn to the sky Thursday (Aug. 14) as a crane lifted Space Center Houston's mock space shuttle "Independence" atop NASA's Shuttle Carrier Aircraft. The pairing was the latest milestone toward a new $12 million, eight-story attraction set to open in 2015 devoted to educating children and the public about the history and Houston's role in the shuttle program.

August 13, 2014 / 7:15 p.m. CT (0015 GMT Aug 14)


ATV commemorative kit: Europe's fifth and final space freighter, the Automated Transfer Vehicle-5 "Georges Lemaître," docked to the aft port on the International Space Station's Russian Zvezda service module on Tuesday (Aug. 12) to deliver six tons of fuel and supplies. On board the spacecraft is one of only 100 commemorative box sets that the European Space Agency assembled to honor the history of the fleet and its visionary scientist namesakes.



special feature


Updates | Photo Galleries | Timeline | Shuttle Tracker | Discussions

August 11, 2014 / 1:30 p.m. CT (1830 GMT)


Marking a year in space: Less than a year remains before the first year-long mission on the International Space Station. From March 2015 to March 2016, NASA astronaut Scott Kelly and cosmonaut Mikhail Kornienko with Roscosmos will gather data to better ready future crews to leave Earth orbit and explore the solar system. The crew's recently revealed patch celebrates their "Year in Space."

August 10, 2014 / 12:55 p.m. CT (1755 GMT)


R/V Sally Ride: The U.S. Navy on Saturday (Aug. 9) christened its first research vessel named for a female scientist, the R/V Sally Ride, during a ceremony held at the Dakota Creek Industries, Inc. shipyard in Anacortes, Washington. Named for the first American woman to fly in space, the R/V Sally Ride will be operated for the Navy by Scripps Institution of Oceanography to conduct research in physics, chemistry, biology, geology and climate science.

August 6, 2014 / 10:00 a.m. CT (1500 GMT)


Rosetta comet rendezvous: After a decade chasing its target, ESA's Rosetta spacecraft on Wednesday (Aug. 6) arrived at the comet 67P/Churyumov-Gerasimenko, where it's set to make history by entering orbit and landing a probe on the irregularly-shaped surface. "After ten years, five months and four days traveling toward our destination, looping around the Sun five times and clocking up [4 billion miles], we are delighted to announce finally 'we are here,'" Jean-Jacques Dordain, ESA's Director General, said.

August 5, 2014 / 4:30 p.m. CT (2130 GMT)


Make Your Own SpaceShipTwo: Late next month, DK Publishing will release three new books under a seven title deal announced on Tuesday (Aug 5) with Virgin Galactic. "Make Your Own SpaceShipTwo," which has within its pages the parts to build a paper model of the suborbital spacecraft and its WhiteKnightTwo mothership, will be sold for 1/10,000th the price of the $250,000 ticket to fly on the real SpaceShipTwo. The other titles reaching store shelves on Sep. 29 include an "Ultimate Sticker Collection" and the flagship book, "Virgin Galactic: The Ultimate Experience."

August 1, 2014 / 8:20 a.m. CT (1320 GMT)


Interstellar mission patch: Paramount and Warner Bros this week debuted a new trailer for "Interstellar," the highly-anticipated sci-fi film directed by Christopher Nolan. The two-and-a-half minute video includes some new, visually-stunning space scenes, as well as offers a look at the movie's spaceships, spacesuits and the mission patch that astronauts Cooper and Brand (Matthew McConaughey and Anne Hathaway) wear aboard the Endurance ship.

July 31, 2014 / 9:00 a.m. CT (1400 GMT)


Marketing the Moon: David Meerman Scott and Richard Jurek combined their profession in marketing and passion for memorabilia to provide new insight into the story of NASA's Apollo success. In their book "Marketing the Moon" (MIT Press), the marketing professionals and space collectors lay out, literally and figuratively, the role that PR played in landing astronauts on the lunar surface, and what lessons that may hold for sending future crews to Mars.

July 29, 2014 / 7:30 p.m. CT (0030 GMT July 30)


Going out with a (big) bang... The fifth and final of the European Space Agency's (ESA) Automated Transfer Vehicles (ATV), named the Georges Lemaître after the "father of the Big Bang theory," lifted off atop an Ariane 5 rocket from French Guiana on Tuesday (July 29). Setting a record for the heaviest vehicle launched by ESA, the ATV will deliver more than seven tons of food, supplies and fuel to the International Space Station when it docks Aug. 12.

July 28, 2014 / 6:25 p.m. CT (2325 GMT)


Rolling record: Opportunity, NASA's Mars rover that landed on the Red Planet in 2004, now holds the off-Earth distance record after accruing 25 miles (40 kilometers) of driving. The previous record was held since 1973 by the Soviet Union's Lunokhod 2 moon rover. In third place is Apollo 17's lunar roving vehicle driven 22.2 miles in 1972.

July 25, 2014 / 7:55 a.m. CT (1255 GMT)


LEGO Hubble: LEGO builder Gabriel Russo is a fan of the Hubble Space Telescope, and as such has set about to give it the toy brick treatment. His concept for a LEGO model of the observatory, which he says would be the "perfect homage" for the telescope's 25th anniversary next April, has attracted more than half of the 10,000 supporters it needs on LEGO Ideas to be considered for production.



[ browse earlier updates ]




© 1999-2014 collectSPACE.com contact@collectspace.com