advertisements





The Source for Space History and Artifacts

July 31, 2014 / 9:00 a.m. CT (1400 GMT)


Marketing the Moon: David Meerman Scott and Richard Jurek combined their profession in marketing and passion for memorabilia to provide new insight into the story of NASA's Apollo success. In their book "Marketing the Moon" (MIT Press), the marketing professionals and space collectors lay out, literally and figuratively, the role that PR played in landing astronauts on the lunar surface, and what lessons that may hold for sending future crews to Mars.

July 29, 2014 / 7:30 p.m. CT (0030 GMT July 30)


Going out with a (big) bang... The fifth and final of the European Space Agency's (ESA) Automated Transfer Vehicles (ATV), named the Georges Lemaître after the "father of the Big Bang theory," lifted off atop an Ariane 5 rocket from French Guiana on Tuesday (July 29). Setting a record for the heaviest vehicle launched by ESA, the ATV will deliver more than seven tons of food, supplies and fuel to the International Space Station when it docks Aug. 12.

July 28, 2014 / 6:25 p.m. CT (2325 GMT)


Rolling record: Opportunity, NASA's Mars rover that landed on the Red Planet in 2004, now holds the off-Earth distance record after accruing 25 miles (40 kilometers) of driving. The previous record was held since 1973 by the Soviet Union's Lunokhod 2 moon rover. In third place is Apollo 17's lunar roving vehicle driven 22.2 miles in 1972.



advertisement


Winco International presents... an official NASA limited edition set

July 25, 2014 / 7:55 a.m. CT (1255 GMT)


LEGO Hubble: LEGO builder Gabriel Russo is a fan of the Hubble Space Telescope, and as such has set about to give it the toy brick treatment. His concept for a LEGO model of the observatory, which he says would be the "perfect homage" for the telescope's 25th anniversary next April, has attracted more than half of the 10,000 supporters it needs on LEGO Ideas to be considered for production.

July 23, 2014 / 7:50 p.m. CT (0050 GMT July 24)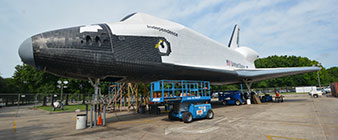 Rise of Independence: On Aug. 14, Space Center Houston will hoist a 160,000-lb space shuttle replica into the air and place it on top of NASA's historic Shuttle Carrier Aircraft, in full view of the public. The liftoff, dubbed the "Rise of Independence," will mark a milestone towards the planned 2015 opening of the $12 million, six-story exhibit.

July 21, 2014 / 3:55 p.m. CT (2055 GMT)


Bridging giant leaps: NASA celebrated the 45th anniversary of the first moon landing on Monday (July 21) while paying tribute to the mission's late commander. NASA's Kennedy Space Center in Florida held a ceremony to rename the historic Operations & Checkout (O&C) Building for Neil Armstrong. The event reunited Armstrong's Apollo 11 crewmates, as well as included the hand over of a flown mission patch that will fly again with the first Mars crew.

July 20, 2014 / 5:00 a.m. CT (1000 GMT)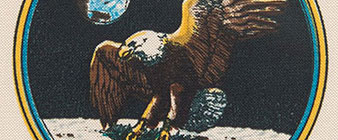 From the moon to Mars: NASA on Monday (July 21) will present Kennedy Space Center with a mission patch that was carried to the moon 45 years ago and will be flown to Mars with astronauts making the "next giant leap." The Apollo 11 patch, which is autographed by the late Neil Armstrong, Buzz Aldrin and Michael Collins, will be handed over during a ceremony to rename the historic Operations and Checkout Building at Kennedy for Armstrong.



special feature


Updates | Photo Galleries | Timeline | Shuttle Tracker | Discussions

July 17, 2014 / 7:25 p.m. CT (0025 GMT July 18)


Hank Hartsfield (1933-2014): Space shuttle Discovery's first commander Hank Hartsfield died Thursday (July 17). He was 80. A three time shuttle astronaut, Hartsfield first flew to orbit onboard Columbia's fourth and final test flight, STS-4, followed by Discovery's first flight, STS-41D, and Challenger's final full mission, STS-61A. An astronaut since 1966, Hartsfield was first chosen by the Air Force for the planned but ultimately canceled Manned Orbiting Lab.

July 17, 2014 / 3:00 a.m. CT (0800 GMT)


The Missions: At exactly 4:18 p.m. EDT on Sunday (July 20), 45 years to the day, hour, and minute after the first men landed on the moon, General Electric will begin sales of its new moon boot-inspired sneakers. Limited to just 100 pairs priced at $196.90 each (for 1969, the year of the Apollo 11 mission), "The Missions" high tops celebrate GE's contributions to the astronauts first steps on the lunar surface, including the silicone rubber in their boots' soles.

July 13, 2014 / 12:05 p.m. CT (1705 GMT)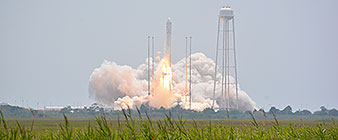 SS Janice Voss: Orbital Sciences launched its second NASA-contracted supply flight to the International Space Station Sunday (July 13). The company's Antares rocket lifted off from a pad at NASA's Wallops Flight Facility in Virginia carrying the SpaceShip Janice Voss, a Cygnus cargo freighter named for the late space shuttle astronaut. The Orb-2 mission is delivering more than 3,000 pounds of experiments, equipment and crew provisions, including 60 containers of food to restock the space station's pantry.

July 11, 2014 / 10:55 a.m. CT (1555 GMT)


Apollo 11 space pens: Fisher Space Pen is marking 45 years since its pressurized pens journeyed to the moon on Apollo 11 with two new space pens. The "Special Edition" 45th Anniversary Astronaut Space Pen features a blue titanium nitride finish and "Apollo 11" starry engraving. The limited edition Apollo 11 45th anniversary space pen is engraved with a moon landing scene and comes packaged with a crystal base and 3D lunar module engraved globe.

July 8, 2014 / 9:25 a.m. CT (1425 GMT)


#Apollo45: Everywhere Buzz Aldrin travels, the people he encounters tell him where they were when he and Neil Armstrong walked on the moon. "I used to keep a little black book to keep track of where everybody was," the astronaut says. Now, for the 45th anniversary of Apollo 11, Aldrin has taken his little black book digital and launched a social media campaign to ask "Where were you?" You can share your moon landing stories using hashtag #Apollo45.

July 7, 2014 / 1:30 p.m. CT (1830 GMT)


Armstrong O&C: NASA is renaming one of its facilities at the Kennedy Space Center in Florida in honor of the first person to set foot on the moon. A ceremony to be held July 21 will celebrate the renaming of the Operations and Checkout (O&C) Building for Neil Armstrong. Timed to coincide with the 45th anniversary of the first lunar landing, the event will include remarks by Armstrong's Apollo crew mates Buzz Aldrin and Michael Collins.

July 3, 2014 / 6:35 a.m. CT (1135 GMT)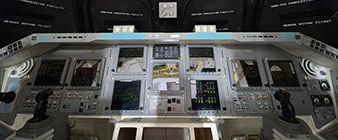 Inside Independence: On Aug. 14 (weather permitting), a 180-foot crane will hoist Space Center Houston's high-fidelity mockup space shuttle, the Independence, on top of NASA's historic Shuttle Carrier Aircraft for an exhibit unlike any other in the world. When opened to the public in 2015, guests will be able to walk through the jet and replica orbiter. collectSPACE offers an exclusive first look at what guests will experience when they go inside Independence.

July 1, 2014 / 12:00 a.m. CT (0500 GMT)


Space brew: The Great Lakes Brewing Co's new seasonal beer celebrates the more than two dozen astronauts who have called Ohio home. 'Spacewalker American Belgo,' which the Cleveland beer-maker and pub will offer on tap Wednesday (July 2) and in bottles the following day, honors the 25 astronauts who've hailed from Ohio and the nine Ohioans who have logged hours walking in space.

June 26, 2014 / 9:00 a.m. CT (1400 GMT)


Cosmonaut Kinina: Just over a week after she was excluded from Russia's cosmonaut corps, the federal space agency Roscosmos has reinstated Anna Kikina. The 29-year-old engineer, who was recruited in 2012 as the only female candidate in her group, will reportedly need to undergo another year of training before she will be eligible for a spaceflight. Kikina now stands the chance to become only the fifth Russian woman in history to fly in space.



[ browse earlier updates ]




© 1999-2014 collectSPACE.com contact@collectspace.com