- collectSPACE Museum -


Artifacts
space flown and ground hardware

Autographs
who's who in space: first 25 years

Books
galleys, advanced reading copies

Medallions
flown and minted with flown metal

Philatelics
first day programs, flown stamps



| | | | | |
| --- | --- | --- | --- | --- |
| | ← Previous | • | Next → | |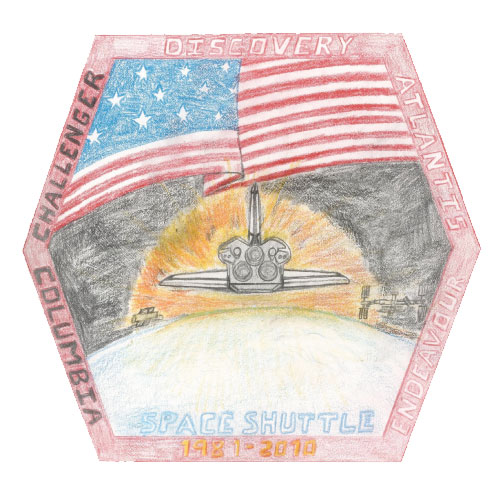 Artist-supplied caption

:

Shuttle is shown flying into the sunset (borrowing the familiar western movie ending of the protagonist "riding off into the sunset" ). The view is from the aft side looking forward.


The earth is shown below as the familiar blue "marble" with only clouds present rather than any particular land mass. No particular land mass was depicted since many missions included international crews from across the Earth. (Note that the U.S. flag is included to signify the U.S. origins of the shuttle.)


"COLUMBIA" & "CHALLENGER" are in black print to recognize the loss of those orbiters/crews. The rest of the shuttle names are in white print. The background for the names is the red "frame" of the patch. (Note that the Enterprise was not included since it was never involved in an actual space flight. Also, it was noted that commemorative patches exist that indicate 1981 as the first flight. This design could easily be modified to include Enterprise if that were desired.)


The years at the bottom of the red "frame" indicate the first space flight (Columbia) and the upcoming last flight. (Again, this could be easily modified if Enterprise were included.)


The words "SPACE SHUTTLE" are in white print, just above the years, with the earth in the background. The print is the same style as is currently used in the standard space shuttle patch.


To the right of the orbiter and on the horizon is the ISS. This symbolizes the many missions spent constructing/supplying the ISS.


To the left of the orbiter and on the horizon is the Hubble Telescope. This was chosen from among the various high profile missions to symbolize the many missions that were spent launching/repairing satellites, etc.
| | | | | |
| --- | --- | --- | --- | --- |
| | ← Previous | • | Next → | |
Back to:
Designing an uplifting end to NASA's space shuttle program

© 1999-2010 collectSPACE.com All rights reserved.
Questions? E-mail contact@collectspace.com