- collectSPACE Museum -


Artifacts
space flown and ground hardware

Autographs
who's who in space: first 25 years

Books
galleys, advanced reading copies

Medallions
flown and minted with flown metal

Philatelics
first day programs, flown stamps



| | | | | |
| --- | --- | --- | --- | --- |
| | ← Previous | • | Next → | |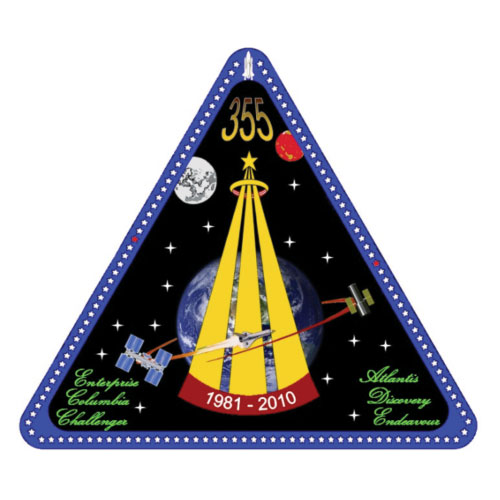 Artist-supplied caption:

The triangular border is in the shape of both the Space Shuttle Program and Orion logos. Also, the Shuttle in the stacked configuration at the top is taken from Shuttle logo. There are 134 stars in the border that represent all 134 missions. The 25th and 113th stars are colored red to commemorate STS-51-L (Challenger) and STS-107 (Columbia) missions. The Moon, Star, and Mars form the shape of Orion's Belt and pay tribute to the next era of manned spaceflight.

The central part of the interior pays tribute to STS-1. It is in the general shape of the patch from the first shuttle mission with the dates of that first mission through the last at the bottom.

The yellow star and bars represent the astronaut office and it points to the total number of astronauts who will have flown aboard the shuttle after the last mission.

The ISS and Hubble represent two of the greatest achievements of the Shuttle program. The 14 white stars on the black background are in remembrance of the crew members lost in the Challenger and Columbia accidents.

The names of all 6 shuttles that were built are listed along the two bottom corners.
| | | | | |
| --- | --- | --- | --- | --- |
| | ← Previous | • | Next → | |
Back to:
Designing an uplifting end to NASA's space shuttle program

© 1999-2010 collectSPACE.com All rights reserved.
Questions? E-mail contact@collectspace.com