- collectSPACE Museum -


Artifacts
space flown and ground hardware

Autographs
who's who in space: first 25 years

Books
galleys, advanced reading copies

Medallions
flown and minted with flown metal

Philatelics
first day programs, flown stamps



| | | | | |
| --- | --- | --- | --- | --- |
| | ← Previous | • | Next → | |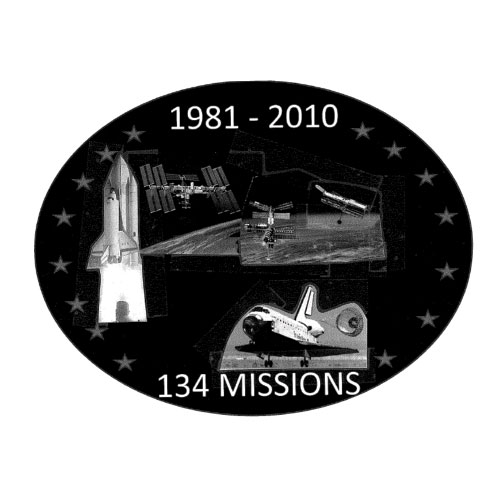 Artist-supplied caption:

The patch depicts the era of Shuttle Program operations from 1981 to 2010 and total missions flown (134). The Shuttle lifting off with the white External Tank (ET) represents the first launch and the Shuttle landing with the parachute system deploying represents the last landing. On the patch there are 2 sets of seven stars in remembrance of the crews of Challenger and Columbia who paid the ultimate sacrifice to the Program. Also included on the patch are arguably 3 of the most significant mission series (Hubble Space Telescope, Shuttle-MIR, and the ISS).

Since the patch is for the Shuttle Program, the launch and landing pictures should be bigger than the pictures of the missions supported.
| | | | | |
| --- | --- | --- | --- | --- |
| | ← Previous | • | Next → | |
Back to:
Designing an uplifting end to NASA's space shuttle program

© 1999-2010 collectSPACE.com All rights reserved.
Questions? E-mail contact@collectspace.com