- collectSPACE Museum -


Artifacts
space flown and ground hardware

Autographs
who's who in space: first 25 years

Books
galleys, advanced reading copies

Medallions
flown and minted with flown metal

Philatelics
first day programs, flown stamps



| | | | | |
| --- | --- | --- | --- | --- |
| | ← Previous | • | Next → | |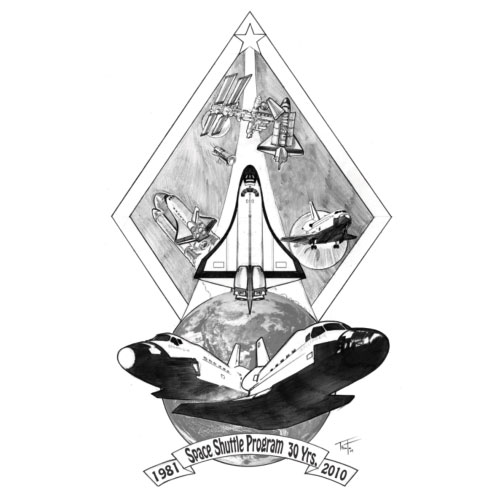 Artist-supplied caption:

The memory of overlooking Ellington field at the Johnson Space Center, and watching the astronauts practice touch and go landings for their upcoming space shuttle mission, will stay with me for a lifetime. From making airplane wings for Boeing in Seattle, to working on the space shuttle program, never in my wildest dreams could I have imagined being involved with NASA.

The space shuttle has proved to be the workhorse for America's space program. The space shuttle, along with the courageous astronauts who flew its missions have earned their place in aviation history. Our vision was to portray the versatility of the shuttle and to communicate it's pivotal role in the advancement of human space travel. From placing satellites, including the Hubble telescope into orbit, to its critical role in construction of the International Space Station, the most complex engineering project ever attempted in the history of mankind, the space shuttle has kept America on the cutting-edge of manned spaceflight.

My role within the shuttle program was ensuring small, minority and woman-owned businesses participation within all phases of the program. Therefore, I thought it only fitting to collaborate with several small businesses in presenting our tribute to the space shuttle program.

We ran out of time, but our intent is to place a cadre of astronauts, standing tall and proud beneath the banner at the bottom. We will resend that version tomorrow, but wanted to ensure that our submittal met the time submittal criteria.
| | | | | |
| --- | --- | --- | --- | --- |
| | ← Previous | • | Next → | |
Back to:
Designing an uplifting end to NASA's space shuttle program

© 1999-2010 collectSPACE.com All rights reserved.
Questions? E-mail contact@collectspace.com