- collectSPACE Museum -


Artifacts
space flown and ground hardware

Autographs
who's who in space: first 25 years

Books
galleys, advanced reading copies

Medallions
flown and minted with flown metal

Philatelics
first day programs, flown stamps



| | | | | |
| --- | --- | --- | --- | --- |
| | ← Previous | • | Next → | |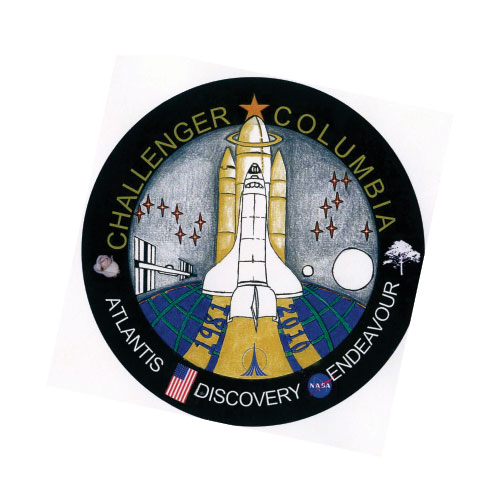 Artist-supplied caption:

Patch Outer Ring Symbols - The Astronaut Emblem Symbol is represented in gold with the top star and three rays. The rays are formed with the two Solid Rocket Boosters and the External Tank of the Space Shuttle featured in the center of the patch. Ever since the Challenger tragedy, a bouquet of roses is delivered to the White Flight Control Room in Houston, Texas. The Shelton family always includes a single white rose in memory of the astronauts whom have lost their life during space travel. A single tree represents the Astronaut Memorial Grove at JSC. The American Flag and NASA Meatball have been placed next to each other, as located on the KSC Vehicle Assembly Building (VAB) in Florida.

Patch Inner Circle - The constellation Columba, or the dove, (taken from the STS-107 mission patch) represents peace on Earth and the Space Shuttle Columbia. The Big Dipper Constellation (taken from the STS-88 mission patch) represents the first Shuttle flight to the International Space Station (ISS) connecting the Node1 to the Functional Cargo Block (FGB). Consequently, this constellation is placed above the ISS. These fourteen stars symbolize our respect to the fallen crewmembers of the Space Shuttle who have given their life in the name of space exploration.

STS-51 Challenger Crewmembers (Big Dipper Constellation- 7 stars)
Gregory Jarvis
Ellison Onizuka
Christa McAuliffe
Ronald McNair
Judith Resnik
Dick Scobee
Michael J. Smith

STS-107 Columbia Crewmembers (Columba Constellation- 7 stars)
Michael P. Anderson
David M. Brown
Kalpana Chawla
Laurel Blair Salton Clark
Rick D. Husband
William C. McCool
Ilan Ramon

The Astronaut Memorial Symbol (from the KSC memorial) is located underneath the Space Shuttle External Tank to remind ourselves to always be vigilant in our work. The left side of the patch represents a major achievement during the Space Shuttle program, the complete construction of ISS. The right side of the patch features a figure of the Moon and Mars to represent our next step in future space flight.
| | | | | |
| --- | --- | --- | --- | --- |
| | ← Previous | • | Next → | |
Back to:
Designing an uplifting end to NASA's space shuttle program

© 1999-2010 collectSPACE.com All rights reserved.
Questions? E-mail contact@collectspace.com