- collectSPACE Museum -


Artifacts
space flown and ground hardware

Autographs
who's who in space: first 25 years

Books
galleys, advanced reading copies

Medallions
flown and minted with flown metal

Philatelics
first day programs, flown stamps



| | | | | |
| --- | --- | --- | --- | --- |
| | ← Previous | • | Next → | |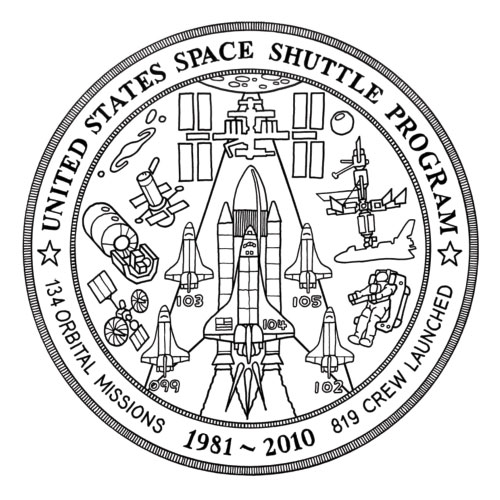 Artist-supplied caption:

This is a bit of a "kitchen sink" design - I tried to include some representative highlights from throughout the program: Hubble, Spacelab, TDRS (representing the new space communications system that Shuttle pioneered, as well as the other satellite deployment/recovery work done early in the program), the first MMU free-flight (representing other innovative crew ops), and the Shuttle-Mir Phase I program. The five Orbiters are shown on top of the original triangular background of the Space Shuttle program emblem, the upper triangle now represents a roadway leading past the ISS and on to the Moon. Mars (red with a white polar cap) is shown off to the right, above Mir. (Note: the two small, lower Orbiters (099 & 102) could have their linework stitched in metallic gold thread to honor their loss during the program. The two crews lost would also be represented by two gold stars in the border of the patch.)

The mission/crew count in the border might need to be adjusted - I optimistically assumed that the final rescue flight (STS-335) might be approved for a final supply flight to ISS (that's why the full-stack OV-104 is shown in flight). If not, the count is 133 missions and 813 crew launched; and 103 would be the stack in flight.

My background: I started on the Shuttle program at KSC right out of school (79) and worked on the Orbiters through the Challenger accident, spent seven years at Headquarters on the Shuttle Spacelab program, and the last sixteen years at JSC working ISS payloads, which includes a lot of Shuttle interfaces (in fact, I did the sketches for this patch last week while supporting STS-129 contingency landing ops at DFRC).
| | | | | |
| --- | --- | --- | --- | --- |
| | ← Previous | • | Next → | |
Back to:
Designing an uplifting end to NASA's space shuttle program

© 1999-2010 collectSPACE.com All rights reserved.
Questions? E-mail contact@collectspace.com