- collectSPACE Museum -


Artifacts
space flown and ground hardware

Autographs
who's who in space: first 25 years

Books
galleys, advanced reading copies

Medallions
flown and minted with flown metal

Philatelics
first day programs, flown stamps



| | | | | |
| --- | --- | --- | --- | --- |
| | ← Previous | • | Next → | |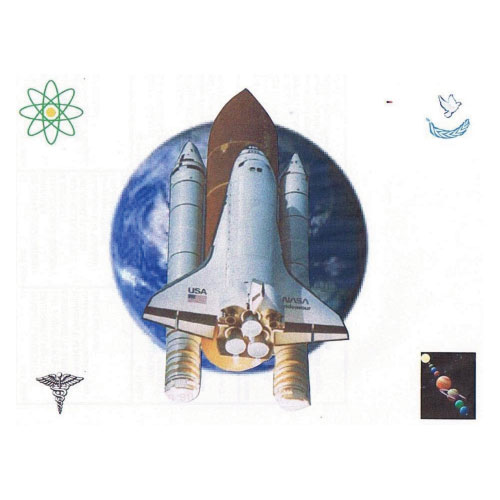 Artist-supplied caption:

General: This design shows the contributions that the Shuttle Program has made to research new technologies to enhance the life in our planet, medicine, planetary exploration, science in general while fostering world peace through the cooperation with other nations.

Center: The Shuttle is in the forefront with the earth on the background: This indicates that the Shuttle has made great contribution to mankind and to our planet.

Top left: A symbol representing science: The contributions of the space program will have an everlasting impact on science in general. The Space Shuttle has contributed to research using Get Away Special payloads or experiments, on board laboratories, scientific research on the International Space Station, etc.

Bottom left: Medical symbol: Represents the advances and research done on medicines, human physiology, etc. These contributions help cure diseases and medical conditions as well as helping develop new medicines and medical equipment among others.

Bottom right: Several planets: Indicates that the Shuttle Program is helping humans to improve how to work and live in space. This is one of the initial stepping stones to the future human travel to the moon and to other planets. Contributions with the Hubble Space Telescope it is also helping us to better understand how the universe was created as well as the discovery of new planets and galaxies.

Top right: Dove and olive branch: The cooperation between the U.S. space program and the space programs from other nations has helped to foster peace and better working relations with other nations. Astronauts from several nations have flown in the Space Shuttle and the Space Shuttle was used in building the International Space Station. Both of these efforts are helping to strengthen the working relations between the U.S., Japan, Russia, Canada, and the Europeans. The closer we work together, the better we understand and help one another.
| | | | | |
| --- | --- | --- | --- | --- |
| | ← Previous | • | Next → | |
Back to:
Designing an uplifting end to NASA's space shuttle program

© 1999-2010 collectSPACE.com All rights reserved.
Questions? E-mail contact@collectspace.com