- collectSPACE Museum -


Artifacts
space flown and ground hardware

Autographs
who's who in space: first 25 years

Books
galleys, advanced reading copies

Medallions
flown and minted with flown metal

Philatelics
first day programs, flown stamps



| | | | | |
| --- | --- | --- | --- | --- |
| | ← Previous | • | Next → | |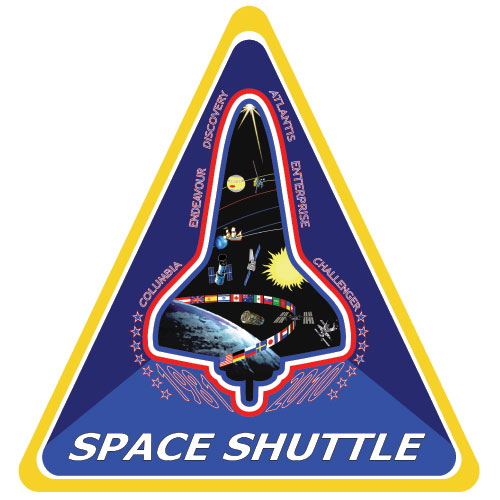 Artist-supplied caption:

In its 29 years of manned space flight, the Space Transportation System fleet of orbiters has served as a unifying tool in understanding the universe, our solar system, our planet and ourselves. The scope of what has been learned through the Shuttle Program is so diverse, it is truly difficult to completely encompass. There have been wondrous discoveries, moments of joy, and times of sorrow. The outer shape and background for the patch hearken back to the design of the original program emblem acknowledging the Space Shuttle program as a whole. The focus of the patch is the shape of the shuttle orbiter. Surrounding the orbiter are the names of the six named vehicles that have carried crews, Columbia, Challenger, Discovery, Atlantis, Endeavour, and Enterprise. While Enterprise never ventured into space, it did carry crew members in unpowered test flights. Below the names of Columbia and Challenger are two sets of seven stars, paying honor to the fourteen crew members who gave their lives in pursuit of the ideals of this program. Within the outline of the orbiter, elements taken from crew patches for flights are tied together showing but a few of the many program highlights. Shuttles carried to space and sent forth probes and instruments to explore space, from stars both far away and as close as our own sun, to planets in our solar system, to our own planet earth. Names such as Ulysses, Magellan, Galileo, Chandra and Hubble come to mind. The Shuttle has also helped us learn about ourselves, by inviting cooperation in space. Crews on the shuttle have included humans from at least twenty-one different nations. Flags from these nations are shown in an orbital trajectory about the earth. The shuttle served as the vehicle to bring unity between the United States and Russia, first with flights to the Mir space station, then through the cooperation in building the International Space Station.

As this chapter in human space flight comes to a close, it is certainly fitting to remember the many achievements of this truly remarkable program.
| | | | | |
| --- | --- | --- | --- | --- |
| | ← Previous | • | Next → | |
Back to:
Designing an uplifting end to NASA's space shuttle program

© 1999-2010 collectSPACE.com All rights reserved.
Questions? E-mail contact@collectspace.com