- collectSPACE Museum -


Artifacts
space flown and ground hardware

Autographs
who's who in space: first 25 years

Books
galleys, advanced reading copies

Medallions
flown and minted with flown metal

Philatelics
first day programs, flown stamps



| | | | | |
| --- | --- | --- | --- | --- |
| | ← Previous | • | Next → | |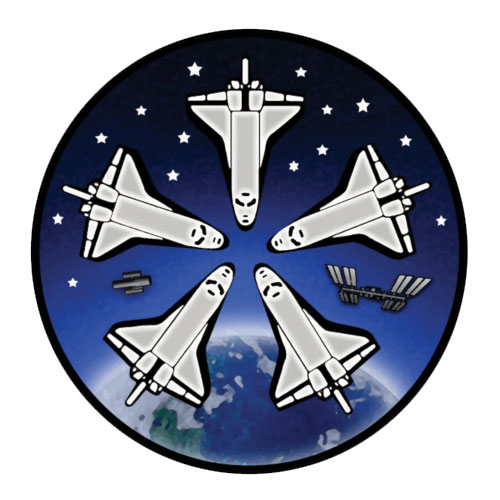 Artist-supplied caption:

The five orbiters shown represent Columbia, Challenger, Atlantis, Discovery, and Endeavour. The fourteen stars are to represent each of those who lost their lives on shuttle missions, with one of the stars having six points like a Star of David, in honor of Israeli astronaut Ilan Ramon (as was seen in the STS-107 patch). Also shown is the earth, because the shuttle was bound to low earth orbit. Finally, two of the shuttle program's greatest and most recognizable accomplishments are represented- the International Space Station and the Hubble Space Telescope.

I felt that each of the orbiters should be shown as they were all so important to the program. As someone that works on them, each seems to have its own personality, in a way. In commemorating the program, I wanted to honor the fallen astronauts. Let us never forget them and what we learned from losing them. I also thought it was important to include two shining examples of what was accomplished by the shuttle program: the International Space Station for the amazing science that has been and continues to be performed there, and the Hubble Space Telescope for bringing the heavens so much closer to earth in crisp, clear images.
| | | | | |
| --- | --- | --- | --- | --- |
| | ← Previous | • | Next → | |
Back to:
Designing an uplifting end to NASA's space shuttle program

© 1999-2010 collectSPACE.com All rights reserved.
Questions? E-mail contact@collectspace.com