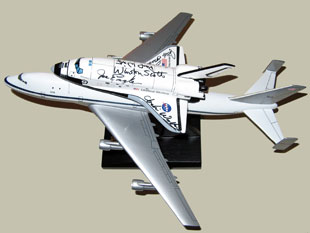 Signed Space Shuttle
NASA uses two modified Boeing 747 jetliners, originally manufactured for commercial use, as Space Shuttle Carrier Aircraft (SCA). The SCAs are used to ferry space shuttle orbiters from landing sites back to the launch complex at the Kennedy Space Center and also to and from other locations too distant for the orbiters to be delivered by ground transportation.

This 1:200 scale model of the SCA with orbiter was signed by the astronauts specifically for the U.S. Space Walk of Fame and comes with COA:
Fred Haise, ALT shuttle astronaut
Joe Engle, shuttle commander
Jack Lousma, shuttle commander
Paul Weitz, shuttle commander
Winston Scott, shuttle mission specialist
Charlie Walker, shuttle payload specialist
SWOFF reserves the right to disqualify the high bidder, to reject the high bid, and to accept a bid from a lower bidder, for any reason within their discretion, which shall be exercised in good faith.
[ return to the auction catalog ]
© 1999-2009 collectSPACE.com All rights reserved.
Questions? E-mail contact@collectspace.com