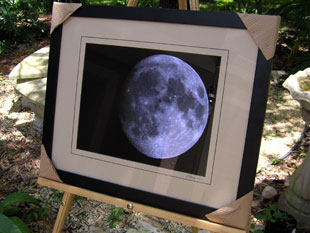 The Moon and more!
This 11- by 14-inch original photograph of the Moon was taken and donated by professional photographer and Space Walk of Fame volunteer, Ed Kindle. This is a limited edition print and no more than 10 copies will be made. Taken with standard Nikon camera equipment, no telescope, and with minimal digital work, it is beautifully matted to 16 by 20 and framed.

Included with this limited edition print is a gift certificate good for a name engraving honoring an Apollo Program worker of the winning bidder's choice on the new Space Walk of Fame Apollo Monument.

SWOFF reserves the right to disqualify the high bidder, to reject the high bid, and to accept a bid from a lower bidder, for any reason within their discretion, which shall be exercised in good faith.
[ return to the auction catalog ]
© 1999-2009 collectSPACE.com All rights reserved.
Questions? E-mail contact@collectspace.com