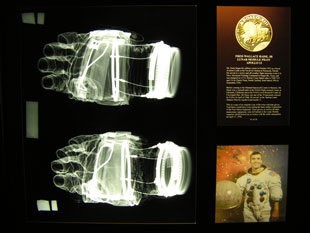 Fred Haise's Glove (Light) Box
Handsomely framed and rear illuminated, this is a copy of an original x-ray of the extravehicular (spacewalk) gloves astronaut Fred Haise would have worn during Apollo 13's lunar surface exploration of the Frau Mauro Highlands.  These gloves, as well as other unnecessary equipment, were left behind in the lunar module Aquarius when it burned up on reentry with the earth's atmosphere on April 17, 1970. The lower x-ray is signed "Fred Haise, Apollo 13, LMP". An image of the Apollo 13 patch with a description and photo of Haise complete this limited edition display.

SWOFF reserves the right to disqualify the high bidder, to reject the high bid, and to accept a bid from a lower bidder, for any reason within their discretion, which shall be exercised in good faith.
[ return to the auction catalog ]
© 1999-2009 collectSPACE.com All rights reserved.
Questions? E-mail contact@collectspace.com