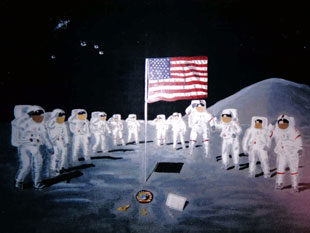 Create Your Own Space Art Masterpiece
Artist Tim Gagnon of Titusville, Florida, will meet with the winning bidder to design and create an acrylic painting up to 18" by 24" in size, or a logo or emblem for their business or club.

A life-long supporter of the space program, Mr. Gagnon has painted portraits and space scenes over the last 30 years and has work on display at the Kennedy Space Center, City Hall in Elmira, NY and the International Space Station, as well as many private collections.

SWOFF reserves the right to disqualify the high bidder, to reject the high bid, and to accept a bid from a lower bidder, for any reason within their discretion, which shall be exercised in good faith.
[ return to the auction catalog ]
© 1999-2009 collectSPACE.com All rights reserved.
Questions? E-mail contact@collectspace.com