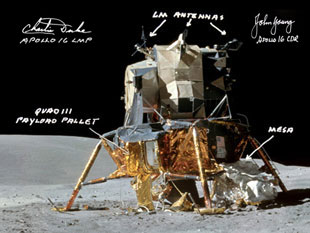 Click thumbnail to enlarge.
Apollo 16 Moonwalkers-Signed Pan
Take a guided tour of the Descartes Highlands, the landing site of the Apollo 16 mission, courtesy handwritten labels by Lunar Module Pilot (LMP) Charlie Duke! This expertly assembled panorama donated by Moonpans.com is unique in that it is also autographed by mission commander John Young! Measuring an amazing 40x8 inches, this handsome panorama would be an instant conversation piece for any office lobby or home den.

Panorama pictured is for example only; actual piece may vary in appearance. SWOFF reserves the right to disqualify the high bidder, to reject the high bid, and to accept a bid from a lower bidder, for any reason within their discretion, which shall be exercised in good faith.
[ return to the auction catalog ]
© 1999-2009 collectSPACE.com All rights reserved.
Questions? E-mail contact@collectspace.com