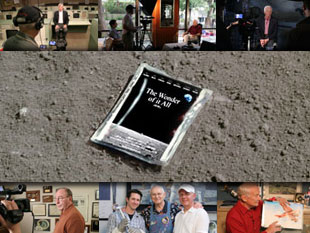 Lights! Camera! Apollo Action!
This may be the only time The Wonder of it All director Jeffrey Roth wants to hear "Take FIFTY" associated with filmmaking! This lot is your chance to host your own Hollywood party for up to 50 guests with Roth's award winning documentary film about the Apollo moonwalkers.

Roth and Producer/Cinematographer Paul Basta will be on hand to explain the process of how the film came together and your own private Q&A. The screening will be held at the legendary Panavision Hollywood in a private screening room.

Transportation to and from this experience is not included. The actual date of the event will be determined by Roth's and Basta's schedule, as well as the availability of Panavision's screening room. SWOFF reserves the right to disqualify the high bidder, to reject the high bid, and to accept a bid from a lower bidder, for any reason within their discretion, which shall be exercised in good faith. The winning bidder of this event may be required to submit proof of identity and be subject to a background check.
[ return to the auction catalog ]
© 1999-2009 collectSPACE.com All rights reserved.
Questions? E-mail contact@collectspace.com