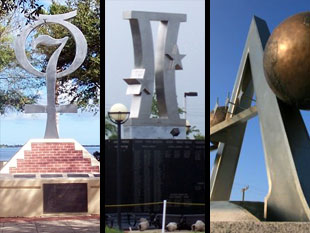 Monuments, Museum and Memories
The winning bidder and a guest will enjoy a personal tour of the Mercury, Gemini, and soon to be completed Apollo Monuments, as well as the Space Walk of Fame Museum hosted by pioneers of spaceflight. Veteran NASA workers Charlie Mars, Sam Beddingfield, Murphy Wardman, Jack Martin, and Johnny Johnson, along with a mystery guest will be on hand to lead the tour, share their personal space histories and colorful stories from the birth of our nation's space efforts through the early shuttle years. These guys lived the space program and this is a chance to hear first hand what it was like.

This two-day tour includes a mystery 'space' experience, a surprise destination, but guaranteed to be a once in a lifetime opportunity!

Includes a one room, two night stay at the Best Western Shuttle Inn, seafood lunch at the world famous Dixie Crossroads, a prime rib buffet dinner for two at La Cita Country Club and a $25 gift certificate at Space Shirts.

The actual date of the event will be determined by the Space Walk of Fame's staff schedule. SWOFF reserves the right to disqualify the high bidder, to reject the high bid, and to accept a bid from a lower bidder, for any reason within their discretion, which shall be exercised in good faith. The winning bidder of this event may be required to submit proof of identity and be subject to a background check.
[ return to the auction catalog ]
© 1999-2009 collectSPACE.com All rights reserved.
Questions? E-mail contact@collectspace.com