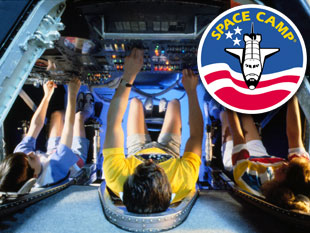 Space for all ages... at Space Camp!
Choose your adventure! The winner of this lot will have their choice of Space Camp, U.S. Space Academy, Advanced Academy, Aviation Challenge Mach through Mach III or either of the Parent/Child programs offered at the U.S. Space & Rocket Center in Huntsville, Alabama. Each adventure includes ground transportation, meals, lodging, educational programs and materials, a team t-shirt, team photo, camp graduation wings and certificate. Send your child or go yourself and relive your childhood dreams of being an astronaut!

This lot does not include any transportation, meals or lodging for accompanying parents who are not otherwise already enrolled in camp (ie: parent/child programs). Airfare is not included. Winners must be age appropriate for the particular camp at the time of attendance. There is fifty dollar registration/administration fee which is not included.
[ return to the auction catalog ]
© 1999-2009 collectSPACE.com All rights reserved.
Questions? E-mail contact@collectspace.com