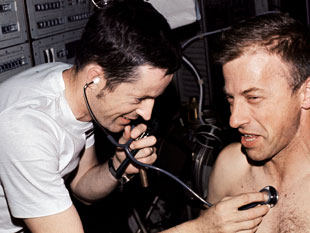 The Doctor is in: House Call by Joseph Kerwin, Astronaut M.D.
Joe Kerwin, M.D., science pilot on Skylab 2 in 1973, and the first physician in space, will give a presentation in the Houston, Texas, area for the winning bidder. During his 28 days aboard Skylab, Kerwin not only performed routine medical examinations and monitored medically oriented crew workouts, but also proved his proficiency with sharp instruments was not restricted to medical procedures. When using a cutting tool during a spectacular EVA, he and Pete Conrad were able to release the stuck solar panel to provide the Skylab with the power necessary to complete major mission objectives.

Dr. Kerwin remained active in the life sciences and held several high level positions within NASA and the contractor community throughout the remainder of his career. Hearing him speak about his Skylab and career experiences is an out of this world opportunity and should be of particular interest to the medical community.

The actual date of the event will be determined by astronaut Kerwin's schedule. SWOFF reserves the right to disqualify the high bidder, to reject the high bid, and to accept a bid from a lower bidder, for any reason within their discretion, which shall be exercised in good faith. The winning bidder of this event may be required to submit proof of identity and be subject to a background check.
[ return to the auction catalog ]
© 1999-2009 collectSPACE.com All rights reserved.
Questions? E-mail contact@collectspace.com