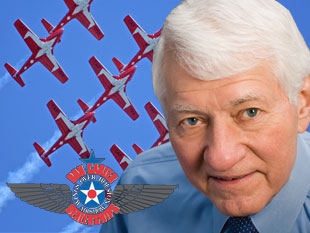 Airplanes, an airshow and an astronaut
This lot includes two Eagle Squadron VIP tickets for the opening day of the 23rd Annual Ron Carter Wings Over Houston Airshow, including covered viewing area, free catered food and beverages all day, a souvenir cap, program, poster and reserved parking.

Before the show starts, you and your guest will join former shuttle commander, Henry "Hank" Hartsfield, at a static plane display for a personal briefing by the attending plane personnel. Colonel Hartsfield was a member of the support crew for Apollo 16 and Skylab 2, 3, and 4 missions as well as backup pilot for STS-2 and STS-3. A veteran of three space flights, he served as pilot of STS-4 and spacecraft commander on STS-41D and STS-61A and was an Astronaut Hall of Fame Inductee in 2006.

Accommodations and transportation to and from this experience is not included. SWOFF reserves the right to disqualify the high bidder, to reject the high bid, and to accept a bid from a lower bidder, for any reason within their discretion, which shall be exercised in good faith. The winning bidder of this event may be required to submit proof of identity and be subject to a background check.
[ return to the auction catalog ]
© 1999-2009 collectSPACE.com All rights reserved.
Questions? E-mail contact@collectspace.com