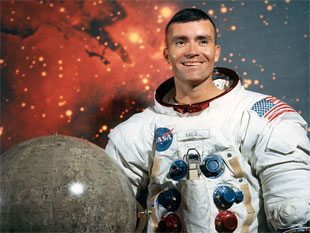 Failure is not an option for the company with Apollo 13's Fred Haise
Fred Haise, Apollo 13 lunar module pilot, will address a corporate meeting or conference in the Houston, Texas area for the winning bidder. This is a rare opportunity for a management team or employees to hear first hand how the leadership and teamwork of failure is not an option can be applied to meet and overcome the daily and crisis challenges faced by any organization.

The actual date of the event will be determined by astronaut Haise's schedule. SWOFF reserves the right to disqualify the high bidder, to reject the high bid, and to accept a bid from a lower bidder, for any reason within their discretion, which shall be exercised in good faith. The winning bidder of this event may be required to submit proof of identity and be subject to a background check.
[ return to the auction catalog ]
© 1999-2009 collectSPACE.com All rights reserved.
Questions? E-mail contact@collectspace.com