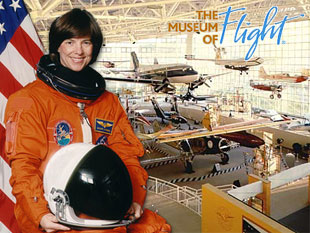 Take Flight! in Seattle, Washington with space shuttle astronaut Bonnie Dunbar
The winning bidder and his/her guests will have an out of this world experience at Seattle's Museum of Flight with an exclusive behind-the-scenes tour of the Museum's new exhibition, Space: Exploring the New Frontier, the Personal Courage Wing, the Great Gallery, and much more, led by Museum President, CEO and retired space shuttle mission specialist, Dr. Bonnie J. Dunbar.

Dr. Dunbar will greet your group in the museum's lobby and escort you on an engaging VIP tour of the museum's archives and artifacts as you learn about the history of aviation, and the history and future of space travel from a veteran of five spaceflights.

Accommodations and transportation to and from this experience is not included. The actual date of the event will be determined by astronaut Dunbar's schedule. SWOFF reserves the right to disqualify the high bidder, to reject the high bid, and to accept a bid from a lower bidder, for any reason within their discretion, which shall be exercised in good faith. The winning bidder of this event may be required to submit proof of identity and be subject to a background check.
[ return to the auction catalog ]
© 1999-2009 collectSPACE.com All rights reserved.
Questions? E-mail contact@collectspace.com