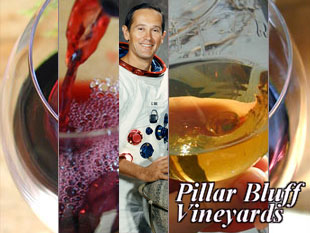 Tour and taste of Texas with Apollo 16 moonwalker Charlie Duke
Apollo 16 moonwalker Charlie Duke and his lovely wife, Dottie, will meet the winner bidder and guests (up to 8 total) at the Pillar Bluff Vineyards in Lampasas, Texas. Your 'taste of Texas' wine and hospitality getaway experience includes a private tasting, tour, and food pairings hosted by the owner and winemaker.

Also included is a relaxing day in San Antonio before or after your winery visit. Enjoy the famous Riverwalk, the historic Alamo, or just some great food with a one night stay at the Holiday Inn Downtown San Antonio Market Square.

Transportation to and from this experience is not included. The actual date of the event will be determined by astronaut Duke's schedule. SWOFF reserves the right to disqualify the high bidder, to reject the high bid, and to accept a bid from a lower bidder, for any reason within their discretion, which shall be exercised in good faith. The winning bidder of this event may be required to submit proof of identity and be subject to a background check.
[ return to the auction catalog ]
© 1999-2009 collectSPACE.com All rights reserved.
Questions? E-mail contact@collectspace.com