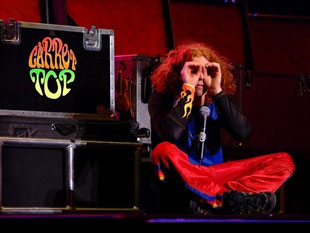 Viva Las Vegas with comedian and real life child of Apollo... Carrot Top!
You probably know him for his creativity and never ending original props pulled from his talent trunk during television and circuit appearances, but what you probably do not know about Carrot Top is that he was born and raised on the space coast of Florida and grew up while his aerospace engineer father Larry Thompson, was training astronauts in the KSC simulators and overseeing the crew quarters and beach house.

This Carrot Top experience includes VIP seating for two and a private 'meet and greet' with the red headed wonder at his show at the Luxor Hotel and comes with a sack full of Carrot Top 'goodies' too!

Scheduling potential through August 2008.
[ return to the auction catalog ]
© 1999-2009 collectSPACE.com All rights reserved.
Questions? E-mail contact@collectspace.com