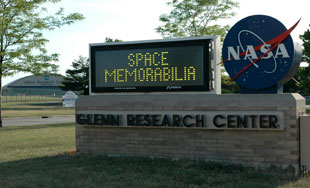 NASA Glenn Visitor Center's
Space Memorabilia Show
in collaboration with collectSPACE
Saturday, Oct. 18
10 a.m. to 4 p.m.
Sunday, Oct. 19
11 a.m. to 5 p.m.

Collectors, enthusiasts and the general public are invited to the NASA Glenn Research Center fourth annual space memorabilia show held in partnership with collectSPACE. Visitors can view and buy artifacts and collectibles, meet special guests and tour Glenn's space research facilities!



Attention collectors, curators and dealers!


Want to be an exhibitor? E-mail for an application now!

Exhibit room and tables are available at no charge but the deadline to apply is August 29, 2008 and space is limited.


---

The show will be held in the Visitor Center, located inside the main gate of the NASA Glenn Research Center.



Map & Directions [PDF] [JPG]


Important Security Notice: All adult visitors are required to present a government-issued photo identification, such as a driver's license. Access is restricted to US citizens. Due to security procedures, visitors may encounter slight delays during entry. All vehicles are subject to inspection.