Did you know that "2001: A Space Odyssey" premiered 50 years ago at Washington, DC's Uptown Theater, just a few miles from the National Air and Space Museum? To celebrate the film's impact on culture and technology, we're opening a special temporary exhibition of the
immersive art installation
"The Barmecide Feast." In this exhibit, walk into a fully realized, full-scale reflection of the iconic, neo-classical hotel room from the penultimate scene of the film.
Visitors will be able to enter the re-created room in small groups for short periods to experience the surreal environment depicted in the film. The installation will be open to the public from April 8 to May 28, 2018.
This temporary exhibit is the centerpiece of the Museum's celebration of 2001: A Space Odyssey's 50th anniversary.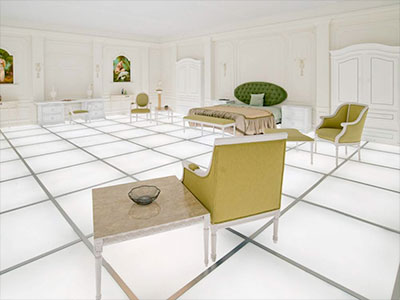 About the Artwork
"The Barmecide Feast" was conceived by Hong Kong-based British artist Simon Birch and built with help from Paul Kember of KplusK Associates architectural firm. Two of Kember's uncles worked as draftsmen on "2001," designing and drawing the painstakingly detailed original set.