On Friday, July 28, 2017 at 23:59 hours, our department received a call of a burglary alarm at the Armstrong Air and Space Museum, 500 Apollo Drive.
Entry, by force, to the front entrance of the museum was made. Evidence at the scene revealed there was more than one subject involved, although entry into the museum was most likely made by one person. Surveillance camera footage did not yield much in terms of a description of the suspect that gained entry. See attached photo.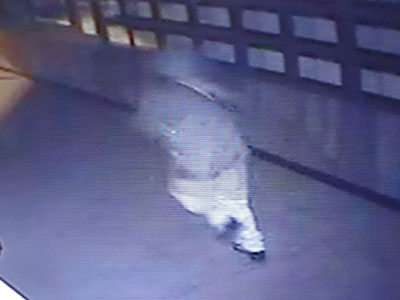 We have learned that other items were taken in addition to the Lunar Excursion Module replica. Award medals/ribbons and presentation coins are also missing. These items were located in the same display case as the lunar module replica.
"I want to stress to the media and public that this is an ongoing criminal investigation. With that being said, I will continue to release information as I can, but I will not tarnish the integrity of the investigation. No other questions will be taken at this time." — Russell Hunlock, Chief of Police.