heng44
Member

Posts: 3290
From: Netherlands
Registered: Nov 2001

posted 01-19-2019 03:05 AM




---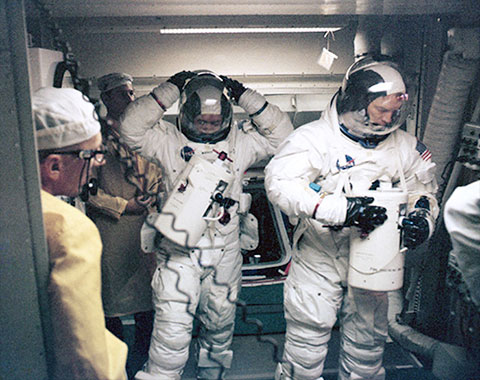 Half a century ago this week, Apollo 9 astronauts Jim McDivitt, David Scott and Rusty Schweickart completed emergency egress training at Launch Pad 39A. Donning emergency oxygen packs, they rushed to the elevator and rode down to the base of the launch tower, where three M-113 rescue vehicles were waiting.
LM-12
Member

Posts: 2828
From: Ontario, Canada
Registered: Oct 2010

posted 01-19-2019 10:12 AM



---
In film footage of the Apollo 8 emergency egress test, Frank Borman tripped on the floor mat and could not get the white strap over his pressure helmet.