heng44
Member

Posts: 2564
From: Netherlands
Registered: Nov 2001

posted 08-08-2005 10:17 AM




---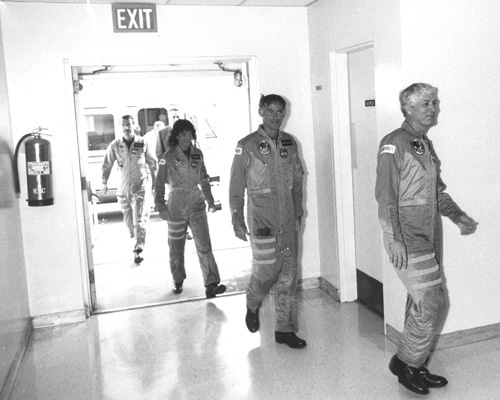 Four members of the crew of Shuttle mission STS-41D return to the Operations & Checkout Building at KSC after the first launch abort in the Shuttle program on June 26, 1984. The automatic engine shutdown occurred when the fuel valve on engine #3 failed to open.
Right to left are commander Hank Hartsfield, mission specialists Mike Mullane and Judy Resnik and payload specialist Charlie Walker. Not shown are pilot Mike Coats and mission specialist Steve Hawley.
The crew is soaking wet because they were evacuated while the pad deluge system was dousing a hydrogen fire at the base of the stack.
Ed Hengeveld
ASCAN1984
Member

Posts: 1004
From: County Down, Nothern Ireland
Registered: Feb 2002

posted 09-10-2009 04:54 PM




---
I just love this photo. It means so much more having read Riding Rockets by STS-41D crew member Mike Mullane. "I thought we'd be much higher at MECO."
StarDome
New Member

Posts: 0
From: Cambridge UK
Registered: Mar 2012

posted 09-10-2009 05:08 PM




---
What a fantastic book it is too, I really enjoyed it.