Robert Pearlman
Editor

Posts: 33792
From: Houston, TX
Registered: Nov 1999

posted 12-31-2015 02:53 AM




---
Pete Souza, chief official White House photographer, just posted his annual gallery of the Year in Photographs. The whole gallery is worth a look, but for the purposes of this site, one particular photo caught my attention.

Out of the 100 photographs that Souza selected, two show astronauts. The first captures Scott Kelly at the State of the Union address on Jan. 20, 2015, just two months before he launched to spend a year on the International Space Station.

The other shows that the STS-61C crew met with the President in the Oval Office on June 9, 2015.
After a group photograph with Sen. Bill Nelson, D-Fla., and Space Shuttle Columbia alumni, the President helped some of the participants move a sofa back in place in the Oval Office.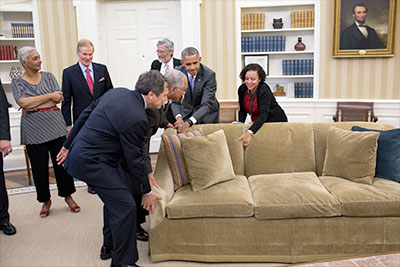 The photo shows Sen. Nelson looking on with Jackie Bolden and John Holdren, the President's science advisor, as Obama, Franklin Chang Diaz and Charlie Bolden move the sofa.
The photo inspired me to look for the posed group shot and came up empty. I then started looking for just mentions of the gathering.
On the same day the photo was taken, Chang Diaz tweeted confirmation of a 29th anniversary 61C crew reunion.
Thanks to our shuttle crew mate @SenBillNelson for a memorable STS 61-C 29 year crew reunion at our nation's capital.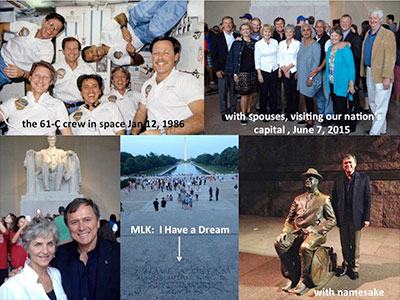 Chang Diaz's photo accompanying his tweet shows Hoot Gibson, Pinky Nelson and Steve Hawley were also present when they visited the Lincoln Memorial (Bob Cenker was either absent or taking the photo). Chang Diaz does not make mention or picture the White House.
Otherwise, there doesn't seem to be much about the reunion online. Rhea Seddon mentions "a trip to DC" in a blog published the same day the photo was taken (and she is shown with Gibson in Chang Diaz's photo).
Sen. Nelson didn't make mention of it in his tweets or Facebook posts at the time. The NASA HQ photo feed, which generally follows Bolden wherever he goes, does not include any shots from the White House on that day.
I don't believe (Pinky) Nelson, Hawley or Cenker have social media accounts.
(Not that there needs to be any mention of the meeting. This just became an insomnia-inducted activity inspired by an unusual photo in Souza's retrospective.)
Robert Pearlman
Editor

Posts: 33792
From: Houston, TX
Registered: Nov 1999

posted 01-13-2016 07:08 AM




---
On Tuesday (Jan. 12), the 30th anniversary of the launch of STS-61C, Sen. Bill Nelson took to the floor of the Senate to speak about the past and future of spaceflight, including describing his former crewmates and his experience aboard space shuttle Columbia.