spaced out
Member

Posts: 3110
From: Paris, France
Registered: Aug 2003

posted 12-02-2011 07:13 AM




---
I found this photo from a private gathering of astronauts in December 1981 very poignant.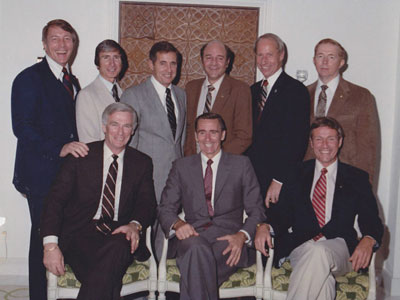 Some of the faces are instantly recognizable and familiar from modern gatherings. Others are easy to recognize as they hadn't changed much since their missions 10 years previously but I must admit I struggled to recognize Swigert and Eisele at first glance.
Seeing this photo is a sharp reminder that too many of these guys died way too early - Swigert at 51, Evans at 56, Eisele at 57, Irwin and Roosa at 61.
kyra
Member

Posts: 583
From: Louisville CO US
Registered: Aug 2003

posted 12-02-2011 01:20 PM




---
Very cool photo but very bittersweet as well. Life beyond spaceflight where the years pass and they all grow together. They could have all been awaiting a moon trip or could have just gathered for a game of cards and laughter after the picture was taken. Stuart Roosa looks somewhat sullen. Theres something almost poetic and very "real" about this pic.
Robert Pearlman
Editor

Posts: 42988
From: Houston, TX
Registered: Nov 1999

posted 12-03-2011 01:34 AM




---
Third from left standing (in the grey suit) is Bill Anders.

So back row, left to right: Swigert, Irwin, Anders, Evans, Worden and Roosa. Front row, seated, left to right: Cernan, Cunningham, and Eisele.