Robert Pearlman
Editor

Posts: 42988
From: Houston, TX
Registered: Nov 1999

posted 06-13-2005 06:32 AM




---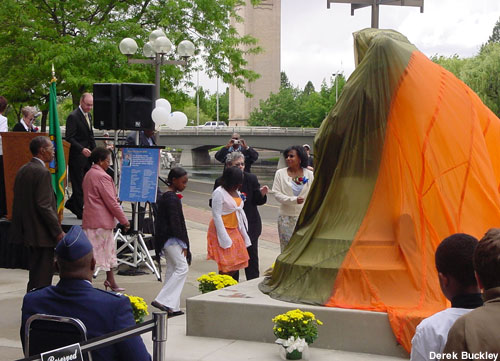 In a special gathering to celebrate the life of the late Columbia astronaut Lt. Col. Michael P. Anderson, a memorial bronze statue was unveiled at 2 p.m. PDT on Sunday, June 12. The public was encouraged to attend the event, that was held in the breezeway between the Opera House and Convention Center in Spokane, Washington.
collectSPACE reader Derek Buckley attended the dedication yesterday and contributed the photographs and details to this report.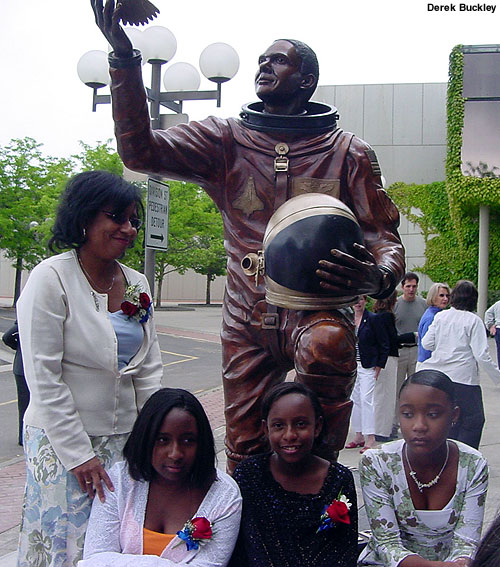 Taking part in the celebration were members of Anderson's family; Dorothy Fowler, the Spokane sculptor who created the bronze; Anne Marie Axworthy, of Avisa Utilities; Skip Davis, with Sacred Heart Medical Center; Katie Kirking, representing U.S. Senator Maria Cantwell; David Condon, representing U.S. Representative Cathy McMorris; and Frederick Gregory, Deputy NASA Administrator.
Also present at the ceremony were Gen. Jefferson Howell, Johnson Space Center Director; astronauts Carlos Noriega and Stephen Robinson; Laurel Clark's husband, Jon; and Willie McCool's wife, Lani.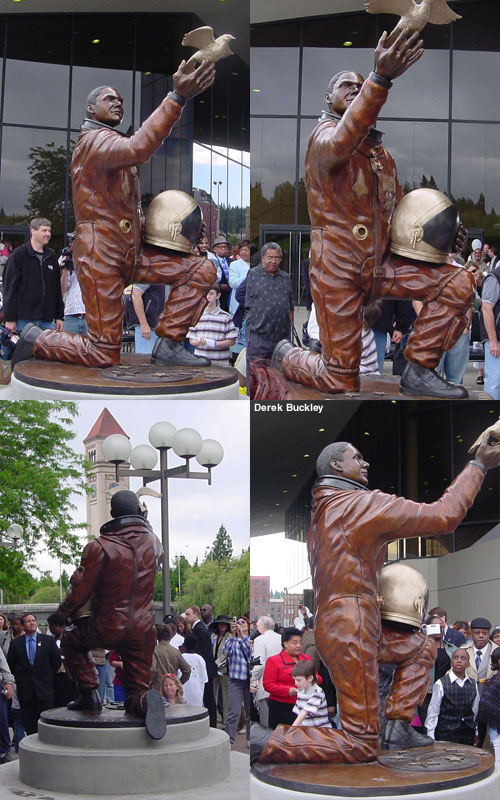 According to Fowler, the statue was designed such that Anderson kneels to warmly greet each and every visitor, especially the children for whom his life sets such a remarkable example. The circular base invites visitors from every direction while providing an appropriate resting place for both viewing and contemplation. In honor of his distinguished career, Anderson wears his spacesuit, prepared for flight. His right hand extends upward to suggest his lifelong dream of space flight and to inspire the children of Spokane to pursue their own aspirations. The dove, a symbol of peace, hope, and faith, takes flight as an expression of Anderson's passion for flying, serving as a reminder of just how far our dreams can take us when we believe in ourselves.
The campaign to raise funds for the larger-than-life-sized statue began 18 months ago, spearheaded by a volunteer committee led by Davis, Axworthy, and the Reverend Happy Watkins. Grassroots groups throughout the area raised money from individuals, including children and youth, schools, and community organizations. Eventually the statue will be relocated to the science center planned at the north side of Riverfront Park, with the plaza to be named in Anderson's honor.
Commander Michael P. Anderson was one of seven astronauts who died when the space shuttle Columbia disintegrated during its reentry from space on February 1, 2003. Anderson was interested in space travel since childhood and later dedicated himself to being a role model for children. He considered Spokane his hometown. He graduated from Cheney High School in 1977, received a bachelor's degree in physics/astronomy from the University of Washington in 1981, and earned a master's degree in physics from Creighton University in 1990.
Today Anderson's wife, Sandy, and two children live in Houston. They traveled to Spokane especially for the celebration.