heng44
Member

Posts: 2564
From: Netherlands
Registered: Nov 2001

posted 03-20-2005 02:58 PM




---
Has anyone ever noticed that in this 1971 business suit portrait Bruce McCandless is holding a magazine with himself on the cover? It is the August 2, 1971 issue of Aviation Week & Space Technology and the cover photo was made by Martin Marietta photographer Lee Coones. McCandless, then Skylab-2 backup crewmember, was at the Denver division of Martin Marietta to test the Astronaut Maneuvering Unit, which would be flown inside Skylab in 1973.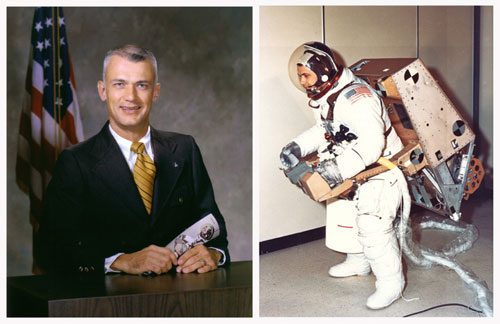 Robert Pearlman
Editor

Posts: 27328
From: Houston, TX
Registered: Nov 1999

posted 03-20-2005 08:35 PM




---
While visting the Freeman Library today, I noticed in the tribute portrait of the fallen astronaut, he too is holding a copy of Aviation Week.