Robert Pearlman
Editor

Posts: 27328
From: Houston, TX
Registered: Nov 1999

posted 06-10-2006 10:43 PM




---
Tomorrow (Sunday, June 11), Congregation Shaar Hashalom will host the International Bites of the Bay, an Epicurean Event, at the University of Houston Clear Lake.

As part of the charity event, silent and live auctions will feature movie and space memorabilia.

The highlight lot of the live auction will be a Spaceflori Apollo Ultimate 20x25" Presentation featuring 11 artifact segments from each of the Apollo missions. Professionally framed and matted, the display has been signed in gold by Apollo astronauts Buzz Aldrin, Alan Bean, Walt Cunningham, Fred Haise, Jim McDivitt and John Young.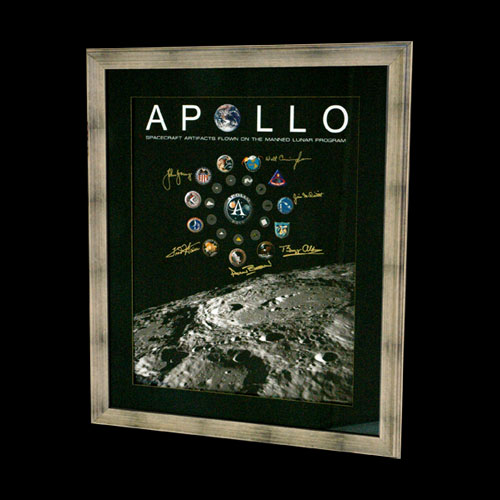 Further, after the auction — for the winning bidder — the display will be also signed by Jim Lovell, Ed Mitchell and David Scott, as has been pre-arranged by the organizers.
Those in Houston tomorrow are welcome to attend. Tickets are $14 at the door, which includes food from 20 area restaurants.
If you cannot attend but would like to bid on the above piece, please contact me via e-mail for possible arrangements.
ilbasso
Member

Posts: 1494
From: Greensboro, NC USA
Registered: Feb 2006

posted 06-11-2006 07:03 AM




---
Either has to do with food or horses. Wait, no, that's "equestrian." Food, then.
Robert Pearlman
Editor

Posts: 27328
From: Houston, TX
Registered: Nov 1999

posted 06-11-2006 10:18 AM




---
quote:

---

Originally posted by LT Scott Schneeweis:
What is an "Epicurian" event?

---
As I understand it, an "epicurean event" offers either a gathering of chefs (or in this case, restaurants) that prepare small tastes of their food for attendees to enjoy. You can proceed from booth to booth sampling the different menus. Think of it as a food court but where you fill your plate with a little bit from each location.

Literally, "epicurean" is defined as: devoted to the pursuit of sensual pleasure, especially to the enjoyment of good food and comfort.
spaceman
Member

Posts: 922
From: Walsall, West Midlands, UK
Registered: Dec 2002

posted 06-13-2006 02:23 PM




---
Hi Robert,
'Literally, "epicurean" is defined as: devoted to the pursuit of sensual pleasure, especially to the enjoyment of good food and comfort'.

Thanks for that.I must be an Epicurean...I'm all for sensual pleasure while eating from a bargain bucket stretched back on a stack of cushions. Does Epicurian really equal couch potato, I guess something was lost in the translation,
Nick
Spaceman.




[This message has been edited by spaceman (edited June 13, 2006).]