A United Launch Alliance (ULA) Atlas V rocket carrying the seventh Global Positioning System (GPS IIF-7) satellite for the U.S. Air Force launched at 11:23 p.m. EDT Friday (Aug. 1) from Space Launch Complex-41.
"Congratulations to the U.S. Air Force and all of our mission partners on the successful launch of the Atlas V carrying the GPS IIF-7 satellite," said Jim Sponnick, ULA vice president, Atlas and Delta Programs. "ULA launch vehicles have delivered all of the current generation of GPS satellites, which are providing ever-improving capabilities for users around the world."
This mission was launched aboard an Atlas V Evolved Expendable Launch Vehicle (EELV) 401 configuration vehicle, which includes a 4-meter-diameter payload fairing. The Atlas booster for this mission was powered by the RD AMROSS RD-180 engine, and the Centaur upper stage was powered by a single Aerojet Rocketdyne RL10A engine.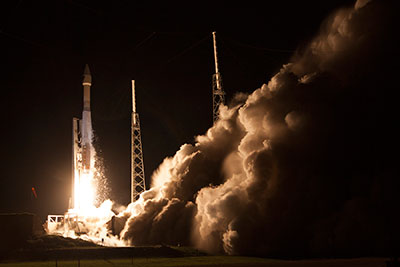 GPS IIF-7 is the seventh in a series of next-generation GPS satellites and will join a worldwide timing and navigation system utilizing 24 satellites in six different planes, with a minimum of four satellites per plane positioned in orbit approximately 11,000 miles above the Earth's surface. The GPS IIF series provides improved accuracy and enhanced performance for GPS users.