After three flights to the International Space Station (ISS), including two contracted resupply missions for NASA, SpaceX is set to launch its third Commercial Resupply Services (CRS) mission to the orbiting laboratory.
The SpaceX CRS-3 mission is targeting a launch at 3:25 p.m. EDT (1925 GMT) April 18 from Launch Complex 40 at the Cape Canaveral Air Force Station, Florida. If all goes as planned, Dragon will arrive at the station on April 20, when it will be grappled and berthed to the complex.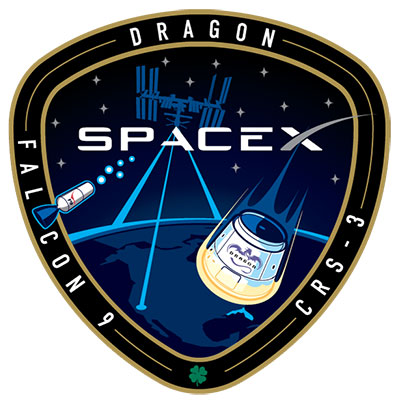 Background and Purpose
SpaceX CRS-3 is the third of at least 12 missions to the International Space Station that SpaceX will fly for NASA under the Commercial Resupply Services (CRS) contract.
In December 2008, NASA announced that SpaceX's Falcon 9 launch vehicle and Dragon spacecraft had been selected to resupply the space station after the end of the space shuttle program in 2011. Under the CRS contract, SpaceX is restoring an American capability to deliver and return significant amounts of cargo, which could include live plants and animals, to and from the orbiting laboratory.
Cargo
Dragon will be filled with about 4,600 pounds (2,100 kg) of supplies and payloads, including critical materials to support more than 150 investigations that will occur during Expeditions 39 and 40.
Dragon will carry four powered cargo payloads in its pressurized section and two in its unpressurized trunk, a first for SpaceX.
Dragon will return with about 3,600 pounds (1,600 kg) of cargo, which includes crew supplies, hardware and computer resources, science experiments, biotechnology, and space station hardware.
Science payloads include the Optical Payload for Lasercomm Science (OPALS), which will test the use of laser optics to transfer information to Earth from space; the Vegetable Production System (VEGGIE), a unit capable of producing salad-type vegetables in space; and the T-Cell Activation in Aging experiment that seeks the cause of a depression in the human immune system while astronauts are in microgravity.
In addition, the High Definition Earth Viewing (HDEV) investigation includes four high-definition cameras to be placed on the space station's exterior for use in streaming live video of Earth for online viewing.
Secondary Payloads
Falcon 9 will deliver five CubeSats to orbit as part of the CRS-3 mission, contained in four Poly Picosatellite Orbital Deployers.